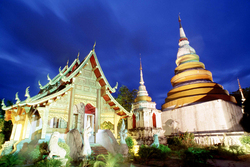 New York, NY (PRWEB) December 2, 2009
The world's longest reigning monarch, His Majesty the King of Thailand will be celebrating his 82nd birthday on December 5. In conjunction with the grand event, the Ratchaphruek Festival has been organized from November 30 to December 10 at the Ratchaphruek 2006 Garden of Chiang Mai. The festival is expected to attract more than 200,000 visitors.
The Ratchaphruek Festival is organized by the Tourism Authority of Thailand, Chiang Mai Provincial Administration, and Ministry of Agriculture and Cooperatives. A welcoming parade from each of the four regions of Thailand is scheduled for the official opening ceremony of the festival on December 1. The opening address of the ceremony will be delivered by Prime Minister Abhisit Vejjajiva after which he will join the people of Thailand in releasing 999 Kom Loi or sky lanterns. In addition, 99 performers from each of the four regions of Thailand will perform Thai classical dances. The number nine is used because it is considered to be a lucky number for Thai people.
The highlight of the festival is His Majesty the King's birthday which consists of prayers and blessings for his continued good health, the lighting of thousands of candles, singing of congratulatory songs, and a brilliant display of fireworks amidst a light and sound show.
Visitors will get to enjoy a drum performance and music from Thailand's four regions on December 2 plus His Majesty the King's jazz songs on December 4. There's also Thai folk music from North and Northeast Thailand on December 6 and from South and Central Thailand on December 7. You can enjoy a light and sound music show, orchestra music, and folk songs on December 8. A Thai puppet and international puppet show is scheduled on December 10.
Chiang Mai is now considered the tourism center of Northern Thailand because of all its economic development and historical heritage. It is also famous for its traditional Thai massage, health, wellness, meditation, and spas, so visitors are reminded to indulge in all these luxuries if they plan to visit the Ratchaphruek Festival.
Besides these treatments, visitors can admire flowers on display in the Ratchaphruek Garden. There are also trees and fruits on display, various agricultural products, handicrafts, and local souvenirs worth buying here. Visitors can also view the "Royal Initiative Discovery" projects located in Northern Thailand which highlight His Majesty the King's concept of a sufficiency economy.
About the Tourism Authority of Thailand
The Tourism Authority of Thailand (TAT) was established in 1960 by the Royal Thai Government to be specifically responsible for tourism promotion. In 1965, TAT opened its first overseas office in New York. Since then, TAT has established 21 offices in different parts of the world including the Los Angeles office. TAT aims to provide the best Thailand traveling information to the public and media members as well as work closely with our travel partners to develop new deals and packages.
###