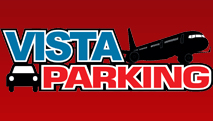 Newark, NJ (PRWEB) September 27, 2012
As a part of their full-fledged Internet marketing campaign, Vista Parking (http://vistaparking.com) has announced that they will be launching a new frequent parker program. This program has been designed to reward loyal customers who reserve long term airport parking spaces throughout the year exclusively with Vista Parking. Travelers can reserve spots through a customer service agent on the phone or through their new and improved website and online reservation system designed by Route 72 Systems.
Along with this new promotion, Vista Parking is still making their promo codes available to new and old customers alike. These promo codes can be used to reserve parking spaces near Newark Airport at a discounted rate.
Vista Parking and Route 72 realized while travelers can save money on hotels and airplane tickets, most still cannot catch a break with airport parking. That is why Vista Parking and Route 72 decided it was time to save their travelers money while building a strong customer base through the Frequent Parker Program. Jim Alamia, CEO and Founder of Route 72 Systems states: "The Frequent Parker program is a big step in the right direction for Vista Parking. They have really gone out of their way to reward their repeat customers which will no doubt encourage growth and loyalty throughout their customer base."
Rewards for frequent Newark Airport parkers are not modest. In fact, when customers build enough credit through this new program, they can actually receive free parking through the Frequent Parker Program. Since free parking near Newark Airport is unheard of, this will no doubt raise many eyebrows. Jim Alamia states: "The Frequent Parker Program makes Vista Parking unique to any other lot near Newark Airport. As of right now, our research and development team has found that there is no way to grab EWR airport parking for free. This new program now makes that possible."
Route 72 Systems is the market leader for those who buy email addresses or need proven marketing systems. With over 15 years of experience in the email data aggregation space, the company is constantly working on improving the systems they create. A stellar track record and always being open to new creative ideas has allowed the company to attract exceptional partners and clients over the past decade.