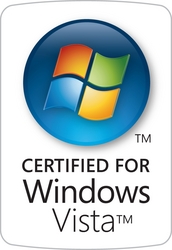 Houston, TX (PRWEB) March 31, 2008
Windows® Vista® Service Pack 1 (SP1) has been formally released by Microsoft® and represents an important milestone for organizations considering a migration to the latest Microsoft Windows operating system. Windows Vista Service Pack 1 (SP1) is the complete set of Windows Vista updates Microsoft has issued over the past year plus additional enhancements that can improve your PC experience.
Zephyr is pleased to announce that both PASSPORT PC TO HOST® 2007, the company's desktop-based terminal emulation suite that has been Certified for Windows Vista, and PASSPORT WEB TO HOST® 2007, its browser-based terminal emulator that Works with Windows Vista, is fully supportive of Windows Vista SP1. PASSPORT 2007 features secure access to applications running on IBM zSeries (mainframe), iSeries (AS/400) and UNIX systems.
All customers and/or evaluators using or testing PASSPORT with Windows Vista now have the option of using this important Microsoft service pack with the Zephyr host access software.
Historically, SP1 represents the point at which large organizations will consider adoption of a new Microsoft Windows operating system and Windows Vista SP1 should prove no different.
In mid-April, Windows Vista Service Pack 1 (SP1) will automatically download and install on Windows Vista- based PCs that have automatic updating turned on. Microsoft considers this is the easiest and most convenient way to update a Windows Vista-based PC, and strongly encourages using this method.
http://www.zephyrcorp.com/windows-vista-sp1.htm
###