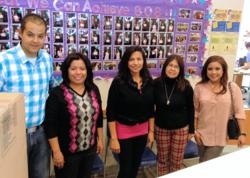 Because of Vista Metals Corp. and their generosity, our students have a brighter smile on their faces
Fontana, CA (PRWEB) December 14, 2012
Vista Metals Corp. recently made its second delivery of 100 pairs of shoes to three Fontana elementary schools: Tokay, Date, and Beech Ave. Each school received a set number of shoes to disperse to preselected children in need. Vista Metals Corp. is the world's largest independent producer of specialty aluminum products.
The company is known for their philanthropic endeavors in the Fontana community. They make a large effort to stay abreast of the needs in the community and determine ways in which they can make a difference.
"It's great to see companies like Vista Metals Corp. make an effort to be involved and give back to its community," said Annie Ramirez, Outreach Liaison for Date Elementary School. "We were so excited to be selected for participation in this wonderful organization."
It does not take long before school officials notice the impact of the shoe drive. As a result of the kind deed, students (and parents) are more eager to attend school and be part of the academic program. Since many of the students have never owned a new pair of shoes, they tend to display higher confidence and increase in self-esteem. Additionally, the new shoes allow them to focus on academics rather than being targeted by other students for not having presentable shoes.
"Because of Vista Metals Corp. and their generosity, our students have a brighter smile on their faces, we would like to thank the company for everything they do for our community," said Ramirez.
Vista Metals Corp. is committed to giving back to the community and being model citizens. This is what drives them to partner with organizations such as Shoes That Fit. The company strives to continue to demonstrate their Excellence Always spirit and commitment to Highest Caliber.
Since its inception in 1992, more than 980,000 children in need have received assistance from Shoes That Fit chapters. The mission of Shoes That Fit is to provide schoolchildren in need with new shoes. To learn more or to find out how your organization can get involved, visit http://www.shoesthatfit.org.
About Vista Metals Corp.
Vista Metals Corp. is the largest global independent producer of specialty aluminum products. They are located in Fontana, California. Along with its tooling and mold plate products, Vista Metals Corp. produces aluminum billet for the hard and soft alloy extrusion industry, cast and scalped billet for the forging industry and slab for rolling applications. More information can be found at http://www.VistaMetals.com.