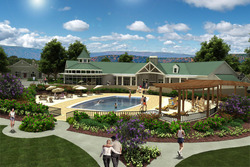 We are very excited about the changes we are making at Vistamor. And so are our prospective buyers! So far, nearly 1,000 people have signed up on our priority interest list. Clearly, they recognize the tremendous value we are offering at Vistamor
Montgomery, NY (PRWEB) May 28, 2010
There's a new look to Vistamor, an active adult community under way in Orange County, NY where the focus is on vacation style living with exciting recreational amenities including a spectacular Clubhouse called The Veranda at Vistamor.
The Veranda at Vistamor will be the center of activity for the active lifestyle at Vistamor.
It will feature an outdoor pool, indoor circular exercise pool, fitness center, sauna, spa, yoga classes, library and a state-of-the-art theater with a 5000 movie collection. There will also be a demonstration kitchen for cooking classes and a dedicated activities director from American Leisure, one of the nation's leading fitness, lifestyle and spa management companies.
In a move designed to provide more natural green space, Vistamor's new plan eliminates the 9-hole golf course originally proposed for the site. More than 65 percent of the property will remain preserved as permanent open green space where residents will be able to enjoy exploring miles of walking trails with boardwalks over wetlands. Eliminating the golf course will also reduce by more than half the projected homeowner association fees, an important consideration for today's value conscious homebuyers.
"Since this project was first proposed over a decade ago, there have been significant changes in what buyers are looking for in an active adult community. A golf course no longer makes sense from a financial and environmental standpoint. Our new plan is more in line with today's new economic realities as well as the need for more sustainable development. You could say we're eliminating the 'the greens' while adding more green," said Nir Avrahami of Montgomery Group LLC, the developer of Vistamor.
In addition to the Clubhouse facility, Vistamor's wide range of active and passive recreational amenities include tennis, bocce, croquet, lawn bowling, volleyball, badminton and shuffleboard as well as hard surface jogging trails with exercise stations. Residents of Vistamor will be able to get together at the barbecue and picnic area and enjoy concerts at the bandstand. In a unique feature, Vistamor will offer community gardening and a greenhouse for gardening classes. For anyone interested in playing golf, there are more than two dozen public and private golf courses to choose from in Orange County.
The revised plan for Vistamor also reduces the number of residences and removes commercial space planned for the site. In place of a multifamily building originally planned for the highest elevation of the property, there will now be attractive duplexes in a park-like setting with mews, plantings, walks and benches. Residents will enjoy breathtaking panoramic views of the rolling hills and meadows of the Hudson Valley and Catskills.
"We are very excited about the changes we are making at Vistamor. And so are our prospective buyers! So far, nearly 1,000 people have signed up on our priority interest list. Clearly, they recognize the tremendous value we are offering at Vistamor," said Mr. Avrahami.
Located on 186 acres of lush rolling hills and meadows, Vistamor features three distinctive home collections - Cottages, Classics and Country Homes - preview priced from the $200s to the $400s. The 2- 3- and 4-bedroom residences and recreational amenities are carefully integrated into the landscape to create a neighborhood where most homes open to vistas or green space.
For more information about Vistamor, please call (845) 457-1200 or visit http://www.vistamor.com
###