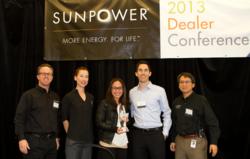 We congratulate Vista Solar for their exceptional performance in 2012.
Santa Clara, CA (PRWEB) February 20, 2013
Vista Solar, a Silicon Valley based solar installer and SunPower Commercial Dealer, today announced it has received the SunPower "Commercial Dealer of the Year" award for its outstanding performance as a SunPower dealer in 2012 in the Northwest & North Central region.
"Vista Solar is dedicated to providing our customers with the highest levels of service and quality workmanship as well as proven, reliable SunPower solar power systems," said Jaymes Callinan of Vista Solar. "We are honored to receive this distinguished award from SunPower."
The "Commercial Dealer of the Year" award honors SunPower dealers that demonstrate exceptional customer service and proven knowledge and leadership in their region of the U.S.
"We congratulate Vista Solar for their exceptional performance in 2012," said Howard Wenger, SunPower president, regions. "As a SunPower Commercial Dealer, they have demonstrated a level of quality and commitment to solar excellence that exceeds expectations, and we look forward to their continued success in 2013."
In 2012, Vista Solar was awarded over 1.5 Megawatts of SunPower solar installations by Silicon Valley commercial business owners and government organizations. These projects ranged from a 17kW roof-mounted solar system for Henry Schmidt Park in Santa Clara, to a 376kW SunPower solar solution for world-class commercial cooking equipment manufacturer The Montague Company in Hayward, CA.
The SunPower dealer network includes more than 2,000 dealers worldwide, with approximately 500 of them located in the U.S.
For more information on Vista Solar call (408) 844-7149, or visit http://www.vista-solar.com.
About Vista Solar Inc.
Vista Solar is an award-winning solar design and installation firm serving the commercial and agricultural markets throughout California. Vista Solar offers $0-down financing solutions that allow organizations and businesses to save money on their utility bills without any capital outlay. Vista Solar is driven by the fundamental principle that the job isn't complete until each customer is reference-able.
Additional information about Vista Solar may be found online at: http://www.vista-solar.com