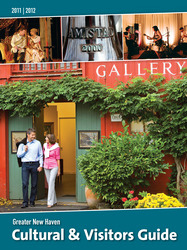 North Haven, CT (PRWEB) April 25, 2011
In recognition of the pivotal role arts and cultural organizations of Greater New Haven play in promoting quality of life for local residents and attracting visitors to the region, the traditional Visitor Guide has been replaced with a Cultural and Visitor Guide. Produced in collaboration with the Arts Council of Greater New Haven, the 2011-2012 Greater New Haven Cultural and Visitor Guide highlights the limitless cultural opportunities in the area. The 84-page magazine style guide features the foremost arts, historical, dining and leisure attractions, as well as essential traveler information.
Data collected through on-line visitor inquiries indicates more than 1/3 of all requests specifically solicit information on the arts and/or historical attractions and events. With the clear demand for cultural information from travelers, the new Guide will meet the needs of visitors most effectively. The Greater New Haven Cultural and Visitor Guide is the primary piece used to respond to inquiries about the region. The Guide is also placed in all lodging properties in the region and is available at Visitors Centers, Tweed New Haven Regional Airport, train stations, attractions and at the Chamber of Commerce and Town Hall of each of the member cities/towns.
"We're pleased to be partnering with our Visit New Haven colleagues on this new guide. It will be a tremendous resource for visitors, realtors and employers. The Cultural and Visitor Guide illustrates the abundant cultural resources of our region that make this a great place to visit, live and work", said Cindy Clair, Executive Director of the Arts Council of Greater New Haven.
Once again, the Guide will be available on the Visit New Haven website in a page-turning version. This green initiative has reduced the number of printed guides from a high of 120,000 in 2003 to 80,000.
"We continue to see travelers selecting on-line information over the traditional printed material. The page-turning version of the Guide trails only our home page in the number of website visits," said Ginny Kozlowski, Executive Director of Visit New Haven/REX Development.
New to this year's guide are icons indicating organizations and attractions who utilize Twitter and Facebook. "We recognize the power of social media. Combined, the Arts Council of Greater of New Haven and Visit New Haven have over 6,000 followers/fans," said Kozlowski.
The free guide can be requested on-line at visitnewhaven.com or via phone at 203-777-8550 or 1-800-332-STAY (7829).
###