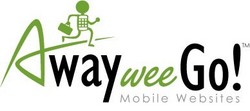 Columbia, MD (PRWEB) October 20, 2009
Visual Data Systems, the leading independent provider of website design; software integration; online marketing including search engine promotion; managed email marketing and consultation for the vacation rental industry, has announced the launch of mobile websites for its vacation rental industry clients with its newest cutting edge product Away Wee Go! ™.
This mobile website solution will help Visual Data Systems client's build customer and homeowner loyalty by providing a real-time connection to their property and availability data for guests, prospects and staff from anywhere. By embracing the needs of mobile web users and providing them with the tools they need to book and plan their next vacation, vacation rental companies will see an increase in sales and customer satisfaction.
The Away Wee Go! ™ - Mobile Website Solution was designed and built by Visual Data Systems to help its clients in the vacation rental industry take advantage of the over 29 million Americans that currently use smart phones such as the iPhone or other hand-held devices to access the internet. With that number expected to grow to over 50 million by 2011 the time is now to have an effective mobile web marketing strategy.
The Away Wee Go! ™ Mobile Website will provide powerful but practical solutions that will work on the most popular platforms for mobile web browsing. Visitors to the mobile website will be able to:

Access Real-time availability with the state of the art Away Wee Go! ™ Mobile Search.
* Search properties by availability.
* Places properties in a Shopping Cart and send links to family and friends through Visual Data Systems' Email-A-Friend technology.
* Search for specific properties through an alphabetic or unit number search.
* Access property detail pages.
* Have the ability to 'Reserve' properties through the mobile website.

Opt in to email marketing or request more information through the Smart Capture by Visual Data Systems.
Have quick and easy access to company contacts with one touch calling/emailing.
Get directions to the client's office or check-in facility from the road.
Utilize a concierge list of key partners/vendors/area attractions that keeps the client's branding in front of in-house guests.
Make maintenance requests directly from the vacationer's phone.
The Away Wee Go! ™ Mobile Search technology will work in conjunction with client's fully integrated custom websites. Visual Data Systems is the leading independent integrator of data from the leading rental management software firms including: Barefoot Software; Escapia and the complete line of Instant Software products that use ISILink including: First Resort; Entech; PropertyPlus and V12.NET. For those clients who do not have a fully integrated website other mobile website options will be available.
"Our extensive experience in the vacation rental industry has led us to develop Away Wee Go! ™ in order to provide our clients with the state of the art online marketing tools that they need as we enter a new phase of internet usage. With the amount of people using mobile web devices including smart phones like the iPhone to search the web rising and a majority of vacationers using the internet to make vacation plans, to not take advantage of the mobile marketplace now will only put companies behind their competition in the near future as they battle for brand recognition, sales and customer loyalty. Over the last fifteen years, our clients have become accustomed to our leadership and innovation in online marketing for the vacation rental industry of which Away Wee Go! ™ is the latest in a long list of successes," stated Kelly Hurley, COO/Executive Vice-President of Visual Data Systems.
About Visual Data Systems
Visual Data Systems, based in Columbia, Maryland is the leading independent supplier of website design and software integration, managed email marketing, search engine promotion, online surveys, online marketing tools, and consultation for the vacation rental industry. Founded in 1993, Visual Data Systems has clients throughout North and Central America and the Caribbean and was a pioneer in bringing real-time online bookings to the vacation rental industry. Visual Data Systems supplies clients across all industries (non-profit; ecommerce; real estate; healthcare) with a variety of innovative products that lead them to online marketing success. For more information, please go to http://www.VisualDataSystems.com or call 410-964-8665.
###