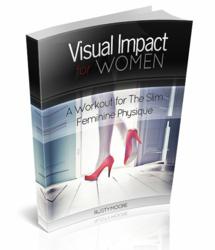 100% targeted on getting women the slim, fit and feminine physique...
Los Angeles, CA (PRWEB) August 21, 2012
"We were excited to write a Visual Impact For Women review" reports VisualImpactForWomenReview.com's Shana Stevens. "Rusty Moore's Visual Impact Muscle Building program for men has been a best seller since it's initial release, and we wanted to see how Rusty's new women's fitness training program stacked up. Unfortunately there are far fewer fitness programs specially designed for women and most of them offer very little innovative information. So I was eager to see if what Rusty teaches in this program is actually anything truly 'new'".
Rusty Moore is a popular blogger and reluctant "fitness guru" who came to prominence in 2007 when the blog he started to discuss what he has dubbed "the lean 'Hollywood' look" took off in popularity.
"I knew for a fact that there was a large group of women who wanted to get lean without having the physique of a typical "gym person." But I was not ready for how big the demand was for this information!" said Rusty. "I just happened to be the first person to get the ball rolling on this sizzling-hot topic."
Rusty Moore's Visual Impact For Women is unique in that it is as Rusty says, "100% targeted on getting women the slim, fit and feminine physique." This is accomplished through diet, cardio and a combination of free weights, exercise machines or body weight exercises.
"One thing I think women will find very appealing about Visual Impact For Women is how customizable the workout plans are" says Ms. Stevens "Oftentimes people quit fitness programs before they see results because they are forced to do exercises that they hate, or follow a diet that is too restrictive. With Rusty Moore's program this isn't really an issue because you are able to tailor the system to your liking."
Visual Impact For Women is a digitally downloadable system that includes an 89 page Main Manual, a 12 week progressive cardio program called "Fat Torching Cardio", a 229 page Exercise Demonstration Manual, and printable workout charts for all of the workouts presented in the program.
"The thing I found most impressive about Rusty's course was the fact that he really seems to understand what women actually want to get out of a fitness training regime", says Ms. Stevens. "I think Rusty has made a real effort to deliver those results."
The program is available exclusively on Rusty Moore's official website here.
Men interested in Rusty Moore's Visual Impact Muscle Building can find more information here.
Those seeking a comprehensive look at the program can read a full Visual Impact For Women review here: http://visualimpactforwomenreview.com/visual-impact-for-women-review-and-results/