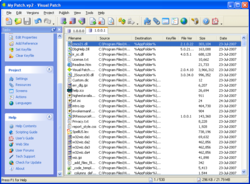 Visual Patch 3.6 is certified Windows 8 compatible. Developers can be confident that no matter which version of Windows their customers are using, they'll be able to install your software patches without any hassle.
Winnipeg, MB (PRWEB) September 28, 2012
Indigo Rose Software announces the availability of Visual Patch 3.6 with full support for Microsoft Windows 8. Visual Patch is a software development tool allowing programmers to build secure, compact and reliable binary patches for their software products. Now no matter what version of Microsoft Windows their clients are using, developers can ensure that the latest patches can be successfully delivered and applied.
Visual Patch saves time and effort for developers by reducing the need for creating and distributing full-scale application upgrades. Developers can use Visual Patch to transmit only the relevant data needed to update a product to the current version. By automatically determining what files need to be added, changed or replaced to bring software up to date, Visual Patch streamlines the upgrade process for programmers and clients alike.
"Indigo Rose is proud to offer this new version of Visual Patch," said Colin Adams, President of Indigo Rose Software. "Visual Patch 3.6 is certified Windows 8 compatible. That means developers can be confident that no matter which operating system their clients are using they'll be getting the very latest software patches without any hassle."
With its drag-and-drop approach, Visual Patch makes it easy to add, remove and organize product versions and manage multiple software releases from one environment, with no programming required. Also, while some patching tools can only update one version of a file, Visual Patch makes it possible to update multiple older versions to the latest release from a single patch file. This simplifies the process for the end user who will not have to worry about installing multiple patches and applying them in a specific order.
Visual Patch includes powerful features such as the advanced DeltaMAX binary difference compression technology, developed specifically to make quick work of gigabyte-sized files. There is also an easy-to-use yet powerful scripting language with access to over 250 high-level actions allowing developers total control over the software patching process.
No matter what kind of data is being distributed, from executable files, databases, documents, videos or game texture data, Visual Patch can figure out exactly what has changed and how to update any previous version to the current version. In addition to speed and ease of use, Visual Patch ensures a secure patching process by using a combination of 128-bit MD5 hashing, checksums and industry standard protocols.
Visual Patch 3.6 sells for $395 (US$) per developer or $995 for the Five Developer Team Pack. It can be purchased through all major software development tools resellers, or directly from Indigo Rose Software at http://www.indigorose.com/products/visual-patch/. A free 30-day trial download is also available.
About Indigo Rose Software Corporation
Indigo Rose provides software developers with tools to manage the complete software deployment life cycle. From multimedia software development and CD/DVD autorun menu systems with AutoPlay Media Studio and Autorun MAX, to automated software installation, updating and patching solutions with MSI Factory, Setup Factory, TrueUpdate and Visual Patch, Indigo Rose offers an array of integrated solutions.