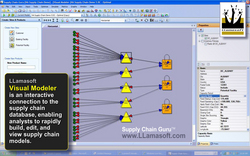 Early users of the Visual Modeler have recognized significant reductions in model building times, while model edits and new scenario development has become virtually instantaneous.
Ann Arbor, MI (Vocus) April 10, 2009
LLamasoft today announced the release of Visual Modeler, the first of its kind technology to be used in strategic supply chain analysis and modeling. This new technology will shave days and even weeks off of a supply chain network modeling project, and enable people to spend more time analyzing solution scenarios as opposed to spending their time editing model data.
Visual Modeler is exactly what the name implies -- a visual means to view supply chain network structures, edit data, and even create entire models. Visual Modeler is designed to feel familiar to people who have used flow charting software applications such as Visio or ABC Flowcharter.
"Improving people's ability to make quality supply chain planning decisions faster continues to be a primary focus of LLamasoft's development efforts," stated LLamasoft Executive Vice President Toby Brzoznowski. "Early users of the Visual Modeler have recognized significant reductions in model building times, while model edits and new scenario development has become virtually instantaneous."
While map views have been common within network design applications for years, they have never been able to help users intuitively add, change, or create model data. Visual Modeler, which is embedded directly into Version 5.1 of Supply Chain GuruTM, enables users to make drag and drop changes to their network design, or even design an entire supply chain simply by importing an ERP transaction file and "drawing" the network connections and behaviors on a virtual canvas.
Visual Modeler is essentially a view into the supply chain model database. It is directly linked to the data tables used in Supply Chain GuruTM and all parameters of the model can be viewed, added, modified, or deleted on the interactive canvas. The system ensures referential integrity by automatically updating any model change throughout the entire database. Key features include:
BUILD: Users can visually build models instead of using multiple data tables, which can often be difficult and time consuming to navigate. Simple drag and drop functions allow users to:

Create products, sites, sourcing policies, and transportation policies using Visual Modeler -- Users do not have to go through multiple data tabs to build or change supply chain models. Visual Modeler allows for drag and drop capabilities to build models.
Automatic synchronization with data tables in Supply Chain GuruTM - Data tables are automatically populated when users build models in Visual Modeler
Automatic population of inventory policies when creating sites
EDIT: Existing models can be checked for missing data or validated by reviewing key inputs in visual modeler. Users can:

Change sourcing, transportation, and inventory policies (For one or many sets of data)
Filter by product, sites, customers, or policies for quick editing
Delete or change site parameters
Incorporate groups for changing large data sets
VIEW: While maps are useful for overall views, analysts require specific product, customer, or geographic flows. Visual Modeler allows for user to:

Create and save unique views by product, customer, or site filters
Show SKU specific product flows
Copy views to PPT to communicate supply chain flows
Create views of specific supply chain segments by business unit, geography, or any unique characteristic
Visual Modeler is being distributed free of charge as an automatic upgrade to all existing LLamasoft clients through the software maintenance program. To learn more about Visual Modeler or Supply Chain GuruTM, contact us at +1 734 418 3119 or via email at info(at)llamasoft.com.
About LLamasoft
LLamasoft provides software and expertise to design and modify supply chain network operations. Supply Chain Guru™ is the leading supply chain strategic planning application available in the market today. It enables companies to model their supply chain operations, optimize the structure for cost and profitability, and simulate proposed changes, allowing users to implement their changes with confidence.
Clients use LLamasoft's Supply Chain Guru™ to identify major financial and operational improvements in transportation, inventory, sourcing, and production applications.
The privately-held company, based in Ann Arbor, Michigan , is the first company to combine enterprise-level simulation with full-feature network and inventory optimization within a single modeling structure. Clients include many of the world's largest organizations across a wide range of industries.
For more information, call 734-418-3119 or visit http://www.LLamasoft.com.
Media Contact:
Gary Bobalik
Director of Marketing
LLamasoft, Inc.
206 South Fifth Ave. Suite 400
Ann Arbor, MI USA 48104
Tel: 734-418-3119
Fax: 734-418-3138
Gary.Bobalik(at)LLamasoft.com
http://www.LLamasoft.com
# # #