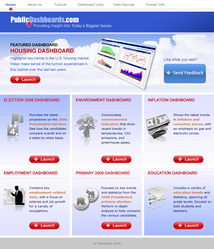 We have successfully deployed this technology in the commercial market, and now want to give public users the opportunity to use these powerful yet easy-to-use tools
El Dorado Hills, CA (PRWEB) September 3, 2008
VisualCalc, a provider of web-based analysis software, today announced the introduction of a new website -- PublicDashboards.com (http://www.PublicDashboards.com ) -- featuring free, interactive dashboards and analysis tools focused on some of today's biggest issues. PublicDashboards.com contains a set of interactive dashboards covering a variety of topical issues, including the 2008 presidential election, the U.S. housing market, inflation and gas prices, the environment, education statistics, and employment trends.
Currently, there is a lot of free, publicly available data focused on issues prevalent in today's news. In most cases, however, this data is not easily consumable by the public. Often, it is scattered across multiple, hard-to-find sources. In addition, much of this data is very detailed and complex, making it hard to decipher. Finally, in many cases the data resides in formats that are not readily accessible by the general public.
PublicDashboards.com addresses this issue by aggregating this detailed, complex data into interactive, easy-to-use charts and graphs called indicators. These visual indicators help users identify trends or issues that might otherwise go undetected. In addition, these indicators enable users to perform deeper analysis into the underlying data. With a simple point-and-click, users can filter and drill-down into any of the indicators to customize their view of the data.
"We have successfully deployed this technology in the commercial market, and now want to give public users the opportunity to use these powerful yet easy-to-use tools," said Amit Mazumdar, CEO of VisualCalc. "These free dashboards will help the public gain valuable insight into some of today's pressing issues, sifting fact from fiction and reality from hearsay."
Currently, PublicDashboards.com contains seven interactive dashboards. Each of these dashboards is described in more detail below:
Election 2008 Dashboard
The Election 2008 Dashboard provides the latest projections for the 2008 U.S. Presidential election. The dashboard's indicators help compare the candidates overall and on a state-by-state basis. For example, the dashboard shows that Barack Obama has 226 projected electoral votes, John McCain has 189, and 123 are still a toss-up. In addition, 68% of Obama's projected votes are projected to be "safe", with the remainder "leaning", while 66% of McCain's votes fall into the "safe" category.
Environment Dashboard
The Environment Dashboard incorporates a variety of environment indicators that show the latest trends in global temperatures, C02 emissions, and greenhouse gases. Indicators are provided at both the global and national levels. The data shows, for example, that while the U.S. has the highest overall level of C02 emissions of any nation in the world, the U.S. Virgin Islands has the highest C02 emissions per capita.
Inflation Dashboard
The Inflation Dashboard shows the latest trends in inflation and consumer pricing. A key are of emphasis in this dashboard is on gas prices. For example, the dashboard highlights the fact that after seven straight weeks of average national gas prices in excess of $4.00 (regular gas, all formulations), average gas prices have dropped below $4.00 for the last six weeks.
Housing Dashboard
This Housing Dashboard highlights key trends from the U.S. Housing Market, helping users understand the turmoil experienced in this market over the last two years. Despite all the negative news, however, data shows that average U.S. home prices still reached an all-time high in 2007, at $312,300.
Employment Dashboard
This Employment Dashboard highlights key occupational and employment-related data. Many of the indicators focus on salary and job growth trends across a variety of occupational categories. For example, of all occupations, food preparation is expected to offer the most job openings between now and 2016, at 5.4 million. It is also, however, the lowest paying occupation, with a current average annual salary of $19,440.
Education Dashboard
This Education Dashboard contains a variety of education trends and statistics. Data is focused on both students and teachers, and spans all grade levels (primary, secondary and college) and over 40 countries. One indicator, for example, shows that U.S. test scores are lower than Japan, China, the U.K. and Canada in all four of the major testing categories: reading literacy, math literacy, science literacy, and problem solving.
2008 Primary Dashboard
The 2008 Primary Dashboard focuses on key trends and stats from the 2008 Presidential primary election. Users can perform in-depth analysis to help compare the various candidates. For example, the data shows that Barack Obama has raised the most campaign contributions to date, with $401 million. Hilary Clinton is second, with $245 million, and John McCain is third, with $171 million raised.
Organizations that track or communicate information related to any of these topics -- including public or commercial websites and online or print media -- are welcome to include links to these public dashboards on their websites. These links can be found on the PublicDashboards.com website.
About VisualCalc
VisualCalc (http://www.visualcalc.com) provides easy, affordable, web-based analysis software that helps companies of all sizes grow and manage their business. Since its founding in 2000, VisualCalc has been focused on its vision of making the analysis of complex data accessible to the everyday user. VisualCalc's unique combination of technology and expertise helps consumers and businesses alike analyze complex data quickly and easily, resulting in better, faster decisions. VisualCalc's analysis software includes two categories of products: 1) VisualCalc Calculators, which companies provide to their customers to help them quickly and easily evaluate their products and services, and 2) VisualCalc Dashboards, which help companies monitor and manage their business. VisualCalc is a privately held company headquartered in El Dorado Hills, California.
###