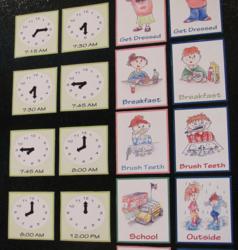 Visual Schedules was conceived with a child's needs in mind, my child. It's our hope that our visual schedules will enhance the lives of other children with autism spectrum disorders.
Mechanicville, NY (PRWEB) May 31, 2011
Visual Schedules Inc., a customized magnetic family and classroom visual schedule company, announces the launch of their new company web site, http://www.visualschedules.com, propelling the specialty visual aid company into a global market.
The web site expands the focus of the company from its original local market, to a larger audience, hoping to enhance the lives of children diagnosed with autism spectrum disorders.
"Our visual schedule products were developed after my son was diagnosed with an autism spectrum disorder," says Joann Tierney-Daniels, Visual Schedules' President and founder. "A visual schedule was suggested by his special education teacher, but finding the perfect fit was difficult. Most visual schedules available were projects, requiring time and effort from parents. Life was overwhelming after my son's initial diagnosis. I didn't have the time for a creative endeavor."
As a result, Tierney-Daniels went to work, hired a graphic design team, and started Visual Schedules. The company manufactures customized visual schedules for children. Their product line is two pronged, one branch dedicated to family schedules, while the other focuses on educators and the classroom.
Although their visual schedules were designed to assist all children; the company emphasizes the impact visual schedules have on children diagnosed with autism spectrum disorders. Research has shown the utilization of a visual schedule assists with communication difficulties, capitalizing on the visual strengths of children with autism spectrum disorders.
Alarmingly, the rate of autism spectrum disorder diagnoses appears to be on the rise. The Centers for Disease Control and Prevention(CDC) report that autism spectrum disorders currently effect one out of 110 children in the United States. This estimate is expected to increase when the revised figures are released by the CDC later this year.
Affected families struggle to find, and finance, adequate tools and resources to assist their children. "Our intent is to spread awareness about autism and the needs of our children," Tierney-Daniels stipulates. "The autism community has given tremendously to my family. A portion of the proceeds of each Visual Schedules sale is donated to benefit an autism related cause, presenting the perfect opportunity for Visual Schedules to pay it forward."
Visual Schedules Inc. was launched in 2010 and is headquartered in Mechanicville, NY. More information about Visual Schedules Inc. is available on-line at https://www.visualschedules.com.
# # #