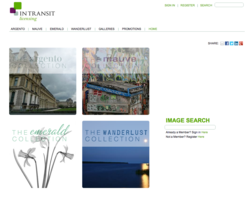 In Transit's Managing Director, Bob Hendriks, adds, "We are excited to be working with Visual Steam. They are a great resource for us, adding tremendous skill and bringing a well-defined process to our sales effort."
New York, New York (PRWEB) November 13, 2012
Visual Steam announces that it has taken on a new client in the stock photography market, In Transit Images. In Transit Images offers a stunning collection of photography built on travel, world cultures, nature, and everyday life.
The company licenses its content using a "rights simple" licensing model making this a simple, clean and easy process for clients. The client selects from 3 categories: 1) Commercial or Editorial, 2) Digital, Print or Both, and 3) Industry (for commercial uses) and Placement (for editorial uses).
Visual Steam has been retained to launch and manage on an ongoing basis, In Transit Images' North American sales effort; building and managing a team of experienced licensing professionals.
"We are very excited to welcome In Transit Images to Visual Steam. They join companies like Citizen Stock and Water Rights Images in approaching licensing sales in a fresh and new way," says Leslie Hughes, President and CEO of Visual Steam.
In Transit's Managing Director, Bob Hendriks, adds, "We are excited to be working with Visual Steam. They are a great resource for us, adding tremendous skill and bringing a well-defined process to our sales effort."
For more information about In Transit Images, we invite you to visit the website http://www.intransitimages.com.
About Visual Steam
Visual Steam is the first sales and marketing services provider to focus exclusively on content and licensing. The company offers a broad range of services to business clients including contract sales support, management services, training and marketing support. For more information on Visual Steam, we invite you to go to http://www.visualsteam.com, or contact info(at)visualsteam(dot)com. Visual Steam is a "DBA" of Equidyne Holdings LLC.