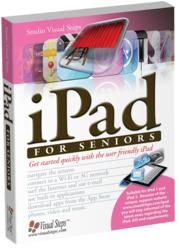 With this iPad book you can learn how to take complete advantage of this technology. Before you know it, you won't believe you ever lived without an iPad. Your world will open up and become a lot bigger!
New York, NY (PRWEB) January 18, 2012
Published by Visual Steps, the iPad for Seniors book is an essential guide to learning all about the iPad.
The iPad is a user friendly, portable multimedia device with endless capabilities. It can be used to to surf the Internet, write e-mails, jot down notes and maintain a calendar.
But these are by far not the only things possible with the iPad. This practical tablet computer comes with other built-in applications (apps) that allow the user to listen to music, take pictures and make video calls. It is even possible to view well-known places in Google Street View.
The Apple App Store consists of hundreds of thousands of apps that add extra functionality to the iPad. Many of these apps can be downloaded for free or cost practically nothing. Some of the bestselling apps cover topics such as news from around the world, games, education, shopping & traveling tips, and podcasts. There is literally an app for almost anything imaginable.
With this iPad book the user can learn how to take complete advantage of this technology. This incredibly helpful guide will maximize the potential of this new technology and allow the user to get the most from their investment.
iPad for seniors
Author: Studio Visual Steps
Number of pages: 296
Book type: Paperback, full color
ISBN: 978 90 5905 108 9
Price: US $22.95 Canada $25.95
Support website: http://www.visualsteps.com/ipad
Suitable for: iPad 1 and iPad 2
Topics covered in this iPad book:
navigate the screens/connect to a Wi-Fi or 3G network/ surf the Internet and use e-mail
/use built-in applications/ download apps from the App Store/work with photos, video and music
Visual Steps is the very successful publisher of the well-known computer books for seniors and is dedicated to helping individuals over the age of 50 participate in the cyber-age. More than 25.000 copies of the title Windows 7 for Seniors and 80.000 of Windows XP for Seniors have been sold.
All of the Visual Steps books follow the same methodology, known as the Visual Steps Method. This method distinguishes itself in a number of ways from traditional instructional methods. Attention is paid to the special needs and requirements of the mature individual. Each product:
For over 10 years, Visual Steps Publishing, a Dutch based company, has specialized in the publishing of practical and accessible computer handbooks, software user guides and other instructional materials that are tailored to senior citizens. We have sold more than one million copies of our books worldwide. Besides publishing books sold in retail, we also publish tailor-made instructional materials for seminars, training programs for corporate clients and educational institutions. The Studio Visual Steps team of authors is comprised of a variety of professionals, all thoroughly experienced in their own subject field.
The Visual Steps books are available at bookstores everywhere and distributed to the trade by IPG. More information and hi-resolution images of covers can be found on http://www.visualsteps.com/press
###