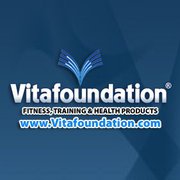 "We are proud to be able to provide a small town feel to our national audience. That's just what we do".

Paul Finkel, Executive Vice President, Vitafoundation
Miami, FLA (PRWEB) October 11, 2011
Dedicated to nutritional needs, Vitafoundation has been selling vitamins and supplements locally in the Miami area for over 40 years. Now, with the launch of Vitafoundation.com, the company has evolved into a national presence and an online shop for quality brand name vitamins, herbals, slimming teas, and weight training supplements without compromising a reputation built on experience and excellence.
What began in 1970 as a small 'Mom and Pop' health and wellness retail outlet, Vitafoundation has grown exponentially into a national provider of vitamins and nutritional supplements.
Convenient online ordering, efficient and friendly phone representatives, exceptional customer service, and competetive pricing are the cornerstones of Vitafoundation.com. Vitafoundation has chosen UPS as its preferred carrier.
Along with competitive pricing, and reliable shipping, the company provides a members loyalty program and offers a VitaREWARDS points system. Vitafoundation.com also carries personal and competition level accessories and health and wellness related content.
For more information on the company visit the web site at http://www.vitafoundation.com.
###