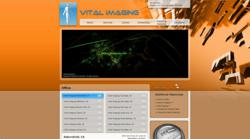 "More doctors agree that stand up MRI technology captures the required images effectively, eliminating repeat scans and expensive traditional films, essentially surpassing conventional MRI scans," states Chief Medical Officer, Sana U. Khan, M.D., Ph. D.
Glendale, CA (PRWEB) May 31, 2011
Vital Imaging, Inc. is a world class proprietor of the stand-up magnetic resonance imagining (MRI) machines. Currently, Vital Imaging operates the most advanced MRI equipment. This ground-breaking technology allows for a walk-through tunnel scanner versus the traditional horizontal and spatially confining flat bed. The stand-up MRI machine has the ability to favorably serve oversized patients, large athletes, and patients with claustrophobia. Furthering the appeal of the premier stand-up MRI machines is the added benefit that the machine allows for a complete range of motion to better accurately target the patient's pathology.
"More doctors agree that this stand-up MRI technology captures the required images effectively, eliminating the need to repeat scans. This technology is also compatible with computer technology to capture and save images, eliminating the need for expensive traditional films and essentially surpassing the quality of conventional MRI scans," states Chief Medical Officer, Sana U. Khan, M.D., Ph. D.
This year Vital Imaging began implementing the latest Radiology Information System. Using the automation tool allows for a well-organized, efficient database, saving providers valuable time and allowing Vital Imaging to assist more patients. Additionally, the R.I.S has aided Vital Imaging in staying current with our nation's trend towards going paperless and exponentially reducing the cost of healthcare. "In this economy it is more crucial than ever to eliminate waste. More paperwork means we are wasting natural resources and incurring supply costs as well as the cost of time and labor required to process the paper work", maintains C.E.O., Sam Solakyan.
These break-through technology efficiencies allowed Vital Imaging to successfully expand their innovative kinetic imaging™ medical services into Northern California. We are excited to announce our extension into San Jose and Hayward, California. Moreover, Vital Imaging now offers traditional MRI services at an additional new site in Pleasanton, CA. "The fact that we are in such high demand beyond our home base, Los Angeles, is a reflection of our defining principles as a company. We are constantly seeking to improve upon our top notch Information Technology, streamlining business operations and providing overall excellence in our service," states Chief Executive Officer, Sam Solakyan.
While Vital Imaging expands to the North, we are also pleased to report the continual growth in Southern California. Having opened additional sites in Beverly Hills and San Diego, Vital Imaging has expanded to include two brand new sites in the Inland Empire.
The key to Vital Imaging's expansion has been its experienced team. Vital Imaging employs the expertise of the most advanced radiologists in the field today. Led by Chief Medical Officer, Dr. Sana Khan, M.D., P.H.D, and supported by a staff of Harvard, Yale, UCLA and UCSF trained radiologists, Vital Imaging delivers superior diagnostic reporting, and remains actively involved in world class research projects with UCLA, UCSD and the U.S. Navy.
Furthermore, Vital Imaging is pleased to assist Providers with reports and legal counsel for obtaining Medical Provider Network (MPN) status so they may serve the needs of a broader range of patients, confirming their commitment to serve the needs of both patient and Medical Provider.
About Vital Imaging, Inc
Vital Imaging, Inc. is a cutting edge medical diagnostics company with leading expertise especially in Magnetic Resonance Imaging (MRI). The company's experienced management team and highly qualified radiologists have created a major healthcare services provider to deliver premier radiology products to the medical-legal healthcare markets. By creating quality imaging techniques to help diagnose patients in symptomatic positions utilizing both the multi-positional/weight bearing MRI as well as High Field Strength MRI units, the company has placed itself in the forefront of radiology and orthopedic research. Vital Imaging has centers located throughout California and is the leading provider of medical-legal MRIs in the state.. For further Information and a detail of available locations visit our website at http://www.vitalimaging.com
###