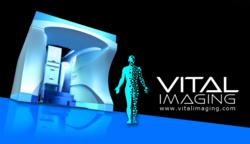 "I knew we had to step up to the plate and help. I have so much respect for this individual who is raising six children on her own. Donating a van was the least Vital could do" said Vital Imaging C.E.O. Sam Solakyan
Glendale, CA (PRWEB) August 26, 2011
Vital Imaging Inc., the nation's premier provider of innovative radiology and orthopedic diagnostic equipment, is praised in the healthcare community for its unwavering commitment to making continual technological imaging advancements. However, most recently, the state-of-the-art company is now being applauded for its ongoing efforts of participating in philanthropic endeavors. The company, who primarily focuses on servicing the medical-legal community, integrates giving back to the community into its business philosophy. Vital Imaging has been altering the medical diagnostic landscape by delivering quality imaging techniques to healthcare providers throughout California. In addition to advancing diagnostic imaging, Vital Imaging, has begun to advance the lives of the less fortunate. Vital has teamed up with local charities to help make a positive impact within the community one individual at a time.
Most recently, Vital embarked on a charitable mission to help a local family in need. The diagnostic company contacted UPLIFT, a non-profit organization created to assist underprivileged families. Without hesitation, Vital generously donated a van to a struggling family of seven. "When my colleague informed me of what was going on with this family, I felt terrible" said Vital Imaging C.E.O. Sam Solakyan. "I knew we had to step up to the plate and help. I have so much respect for this individual who is raising six children on her own. Donating a van was the least Vital could do".
The admirable recipient of the van is a self-sacrificing mother from Orange County. This mother's daily routine left the woman exhausted before her day had even begun. Every morning, the selfless mother was forced to make two separate trips to get her six children to school. Her three passenger car needed frequent repairs, which made transporting her six children, who are all under the age of nine, a constant everyday struggle. Additionally, because of state budget cuts, her children have been displaced to schools farther from their home, making mornings even more difficult for this woman and her family. Upon hearing of this woman and her unfortunate circumstances, Dr. Sana Khan, Chief Medical Officer, and Sam Solakyan, C.E.O of Vital Imaging felt compelled to take action.
Once again, Dr. Khan and Mr. Solakyan's devotion to giving back to the community drove the two men to immediately contact Uplift Charity. The charity was established in 2006 with the mission of supporting underprivileged Muslim families in California. The organization aims to provide assistance to the most vulnerable members of its local community, with the hope of empowering them to become self-sufficient members of society. The southern California based organization works with recent migrants, unemployed, abused, elderly, women, children, homeless and many others to become independent, confident members of the community. To help ease the stress of the family's hectic mornings, and with Uplift's assistance in locating the underprivileged family, Dr. Khan and Mr. Solakyan graciously donated a Dodge Caravan.
Donating a van may be a small contribution, but this gift will undoubtedly have a tremendous impact on this family for years to come. The van represents more to this family, than to an average family, because it will allow this family to all be together, in the same car, at the same moment in time. The significance of this van for this mother of six is life-changing. "When the van was delivered, this family was overjoyed. Even the kids seemed genuinely aware of how much easier the morning routine was going to be. The kids climbed through the mini-van with a real genuine heartfelt delight," said Owaiz Dadabhoy, President of UPLIFT Charity, who felt fortunate enough to witness the touching reception.
Vital sincerely believes that anyone who is in a position to lend a hand to those in need should reach out to a local charity to start making a difference. Helping those who are less fortunate can be accomplished by assisting one family at a time, the way Vital Imagining has chosen to do. "You would be surprised to see what you can do for your community" said Dr. Khan. "It really doesn't have to be wealth or have to be a full time job. What may seem very small to you can actually make a huge difference to someone else. We were very happy to work with Uplift in our community, but there are organizations like these in every community. With the power of the internet, it is easy to find your own special charity or cause to support".
Vital Imaging consists of a team of expert radiologists who trained at UCLA, UCSF, Harvard, and Yale. The state-of-the-art imaging company works in close collaboration with UCLA, UCSD, and the U.S. Navy. With multiple offices throughout Southern and Central California, Vital Imaging is persistently pursuing its mission of providing clinical specialists with the highest quality tools available.
Vital Imaging's cutting edge services are mutually beneficial to both physician and patient. Delivering accurate medical diagnostics through stand-up MRI, multislice CT, NCV / EMG, ultrasound, and X-ray is Vitals' main objective, which is evident in their continual efforts to improve their services. Vital Imaging's commitment to making the communities in which they do business a better place are a rare and remarkable quality to find in a company today. Whether it be providing assistance to patients, or donating to a local charity, Vital Imaging has proven that it is a positive force in the medical industry. The message Vital is sending to the local community, is that when you are struggling, Vital is here to help, and that message is comforting during such troubling times.
For more information on how you can get involved with UPLIFT Charity go to http://www.upliftcharity.org.
About Vital Imaging, Inc.
Vital Imaging's mission revolves around providing comprehensive and dynamic services that equally benefit both physicians and patients. Vital desires for accurate information to be quickly and efficiently delivered to providers, subscribers, claimants, personal injury applicants', injured workers, and their attorneys for insured and non-insured parties. Pursuing their commitment to staying ahead of the trends in MRI technology as well as the company's advanced administrative expertise, places Vital Imaging in high demand by physicians statewide.
For further Information and a detailed description of available locations please visit our website at: http://www.vitalimaging.com
###