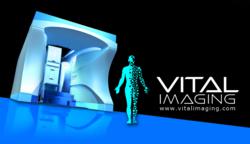 "Our first priority is to fund and continue independent research that forms our decisions, such as our current weight bearing MRI project with UCSD and the U.S. Marines," said Chief Medical Officer, Sana U. Khan, M.D., Ph. D.
Glendale, CA (PRWEB) July 28, 2011
Vital Imaging Inc., the nation's forefront provider of radiology and orthopedic diagnostics, is pleased to announce its latest upgrades and investments to the company's imaging arsenal. In today's delicate economy, medical service providers primarily focus their efforts only on expansion and franchising. By making consistent improvements in equipment and technological advancements, Vital Imaging continues to raise the healthcare industry standard. Such continuous equipment purchases and significant technology upgrades demonstrate Vital Imaging's ongoing commitment to delivering top-notch services.
Vital Imaging is setting the bar for medical technology companies. Primarily servicing the medical-legal healthcare community, Vital Imaging's dedication to advancing the diagnostic imaging field is remarkable. Delivering first-class medical equipment along with ground-breaking technology services, secures Vital Imaging's spot as one of the country's most-qualified imaging providers. Without making consistent advancements in equipment and technology, healthcare providers are potentially jeopardizing the accuracy of their patient's diagnoses. Vital Imaging is committed to helping diagnose patients by providing quality imaging techniques.
"Our first priority is to fund and continue independent research that forms our decisions, such as our current weight bearing MRI project with UCSD and the U.S. Marines," said Chief Medical Officer, Sana U. Khan, M.D., Ph. D. "We are purchasing equipment that is consistent with the advances we have made with respect to our research."
Vital Imaging is known for its state-of-the-art imaging centers. To date, Vital Imaging has made significant investments to their imaging sites by purchasing Dynawell® weight bearing devices. These weight bearing devices simulate the compression in the spine that occurs only while standing. A traditional MRI taken in a relaxed position does not provide the most accurate diagnosis. To provide accurate diagnosis to all patients, Vital Imaging has successfully added Dynawell weight bearing devices to all of their traditional MRI machines.
Vital Imaging is on a quest to expand and revolutionize the medical technology industry. In addition to the Dynawell weight bearing devices, Vital has also added digital x-ray machines to select sites to provide referring doctors with cutting edge imaging performance and web based imagery delivery. These new equipment additions are allowing Vital Imaging to provide the best diagnostic images available. Furthermore, offering such substantial services will benefit both patient and physician.
Finally, Vital Imaging has acquired new ultra sound machines. "Ultrasound technology is the spell-checker of radiology, without making advances in this crucial area, you are potentially missing out on a vast amount of possibilities," stated Vital Imaging CEO, Sam Solakyan.
Vital Imaging's instinctive ability to always be a step ahead has led the company to enjoy a competitive advantage in the medical technology industry. The successful imaging company is paving the way for further advancements in medical technology that will further benefit their present and future clients. Offering break-through technological efficiencies is just one key to Vital Imagining's success.
Vital Imaging is committed to making advances in diagnostic Imaging. Vital aims to provide doctors with more accurate results that can allow them to make crucial decisions for how to put a patient on the right path towards healing, eliminating unnecessary surgical procedures and finding new alternatives to over-prescribing medications. Implementing new technology will only further enhance Vital Imaging's diagnostic validity. With these new significant technological upgrades and new equipment purchases, Vital Imaging will be able to drastically increase the quality of patient care.
About Vital Imaging, Inc.
Vital Imaging's mission revolves around providing comprehensive and dynamic services that equally benefit both physicians and patients. Vital desires for accurate information to be quickly and efficiently delivered to providers, subscribers, claimants, personal injury applicants', injured workers, and their attorneys for insured and non-insured parties. Pursuing their commitment to staying ahead of the trends in MRI technology as well as the company's advanced administrative expertise, places Vital Imaging in high demand by physicians statewide.
For further Information and a detailed description of available locations please visit our website at: http://www.vitalimaging.com
# # #