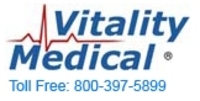 a shopper-friendly layout should be the leading design element of every medical supply eCommerce site
Salt Lake City, UT (PRWEB) February 24, 2011
Vitality Medical announced today the launch of their new shopper-friendly website. This new state-of-the-art website offers discount and wholesale medical supplies online to hospitals, clinics, nursing homes, government agencies and homecare. Online Medical Supply products are shipped discreetly directly to your door. Most orders are ship within 24 business hours of placement. This quick and easy way to order and receive medical supplies is expected to set the standard for future online ordering systems.
Now in their 11th year of business, Vitality Medical has spent several years in developing and testing online methods to display medical products and to simplify online purchases of medical supplies over a secured system. The new Vitality Medical website has many features to improve online ordering of medical equipment. These new features focus on two important areas—first, finding the right product, and second, an easy purchasing checkout system.
First, Finding the Right Medical Product
Research into how people shop online for medical products found that most Internet shoppers want to find what they are searching for quickly. They want to see the product they are considering to purchase. Since online shopping does not allow them to pick-up and inspect the item, they at least want to see a picture of it to confirm it will meet their needs. Often they require expert advice and an opportunity to ask questions to a "live person" rather than an automated answering machine. Online shoppers want the ability to scan available product variations like size and color. They like product reviews by other shoppers who have used the product. Many shoppers also want detailed product information to make sure they are buying the right item for their needs.
VitalityMedical.com makes finding medical supplies and information about medical products easier. Medical supply shoppers can search for products in several ways--by category, by brand, by store or by searching with a product name or product number. Search results display the manufacturer's name, product name, product photo and price. This allows shoppers to easily drill down to what they are specifically searching for.
Unlike many online medical supply companies that display very little information about the products they sell, Vitality Medical seeks to provide all the information available about the product to include images and prices. Vitality Medical offers detailed product descriptions and product variations. In many instances, Vitality Medical has conducted additional research to provide a better product description than even what the manufacturer provides. This allows customers to better determine if the product is what they actually need. Vitality Medical's president and founder, Mr. Brad Packer, indicates the importance of this design element within the website:
"The process of empowering online shoppers with detailed product information is never-ending. We are always experimenting with new ways to display information and to provide detailed product comparisons to help shoppers decide on the medical supply product that is right for them. Our goal is to be the most shopper-friendly medical supplier online."
An example of this can be seen on Vitality Medical's Home Oxygen Concentrator webpage where the top selling oxygen concentrators are compared side-by-side with dimensions, weight, noise output, oxygen output, warranty and price. Leadership in a specific area is highlighted so that shoppers can easily identify the best brand for a feature that is important to them. Another example is Vitality Medical's Invacare Hospital Bed webpage. On this page is a detailed description for the hospital bed, its features and benefits, its specifications and optional bed accessories to include bed rails and mattresses. At the bottom of the page is a side-by-side chart comparing the different Hospital Bed Options, including full-electric, semi-electric, manual, low-bed, or economy.
Each product page on the website provides shoppers with the newest features found on the Internet such as product reviews from other shoppers, Facebook "like" ratings, "Ask an Expert" for additional information, bulk order discount requests, live online support, a Medical Supplies Blog, and for additional help, friendly customer service representatives. Each of these features is designed to help shoppers quickly find the right product for their needs.
Second, Easier Checkout
Online shoppers want an easier checkout system. Vitality Medical's new website makes checkout with your purchases simple and faster. People shop online for convenience, greater selection and lower prices. Many online stores, however, make online shopping anything but convenient. Some online medical supply companies require as many as 4 to 10 separate steps of annoying web page forms in order to complete the checkout process. Some companies, like online giant Amazon, use eight separate pages to gather the shoppers information—an email address page, a login password page, a billing address page, a shipping address page, an address verification page, a shipping options page, a payment options page, a credit card data page…, frustrating many shoppers in the process. During this exhausting checkout process, shopper selections and price totals are hidden from view and very difficult to reacquire until you reach the end of their process.
Vitality Medical has streamlined the checkout process to a simple one-page checkout. On this secured webpage, the buyer furnishes their billing, shipping and credit card information and selects their shipping option. Vitality Medical's checkout page displays a summary of the order with each item, quantity, price and shipping charges, allowing shoppers to review their order without ever leaving the checkout page. Additionally, the checkout page provides a button at the bottom to allow customers to adjust their cart without having to start the shopping or checkout process all over again. Many medical supply shoppers at Vitality Medical have found this as a handy method to delete items that are not within their budget or to add an item to obtain Free Shipping. When shoppers select their method of shipping on the checkout page, they can immediately see the resulting change in the total price for their order. The shopper can then adjust their shipping option to fit their budget or their need for quicker delivery service and instantly see the resulting change in price.
Returning customers who have registered can log in, allowing their address information to "auto-populate" saving them from having to re-enter information on subsequent orders. Registered customers can also easily review all their previous orders, reorder from a previous order, and provide product reviews. Registered customers also receive a monthly email notice of any new discount coupons that can be applied to their next order.
Brad Packer cites that the future of online shopping is about making the online experience easier for the shopper. Every online business will need to examine how they provide a shopping-friendly environment for their website visitors.
"The online strategy of hiding the final transaction price until the very last page of the checkout process is not shopper friendly. Online companies that follow this practice demonstrate that they do not have the shopper's best interest in mind. Their strategy is to hide the final cost to prevent shoppers from deleting items from their shopping cart and to reduce cart abandonment. Having all the information displayed on one page for the shopper to review makes all the difference in making an informed online purchase decision."
A shopper-friendly website has been the driving force behind all the new features at VitalityMedical.com. Making products easier to find and easier to purchase are the major objectives of the massive and well-researched changes the company has invested in over the past several years. Mr. Packer states that, "We hope that online medical supply shoppers will find the new website the friendliest on the web. If they don't, we want to know from them what will make their online experience better. There is always room to improve."
About Vitality Medical
A leader in the medical supply business, Vitality Medical provides medical supplies and therapeutic equipment to hospitals, clinics, nursing homes and patients recovering at home. Vitality Medical serves people suffering with diabetes, oxygen deprivation, incontinence, sleep apnea, lymphedema, DVT, high blood pressure, chronic wounds, COPD, bed-ridden patient care and a host of other medically related issues. With an easy online ordering system, Vitality Medical makes it convenient for shoppers to find medical supplies and order from their home or office. As a low cost leader among medical supply companies, Vitality Medical seeks to help families on a budget and medical clinics reduce expenses. During an era of spiraling medical costs that has even federal and state governments legislating to bring costs under control, Vitality Medical provides discount and wholesale pricing usually reserved for large corporations to individual shoppers at home.
Barry Preusz
Marketing & Public Relations
Vitality Medical, Inc.
801-733-4449
###