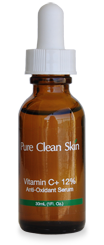 A new all natural skin care line is now available from Pure Clean Skin which features a powerful antioxidant serum called, 'Vitamin C+ Serum 12%' to help sun damaged skin.
(PRWEB) March 24, 2012
Natural health and wellness company True Healthy Products is releasing a brand new skin care line called, "Pure Clean Skin" which features a Vitamin C+ 12% Serum that stimulates cell renewal and the production of both collagen and elastin to help heal aging or sun damaged skin.
Learn more about their revolutionary skincare line on their website: http://www.purecleanskin.com
The new skincare product called Vitamin C+ 12% Serum by Pure Clean Skin is a scientifically formulated antioxidant that boosts the skin's natural immune properties. Vitamin C Serum will help minimize and repair the damage caused by free radicals. Vitamin C is an antioxidant that helps undo damage caused by excess sun, environmental pollution and other carcinogenic substances."
Pure Clean Skin's new serum, Vitamin C+ 12% will help your skin by:
Brightening the skin
Firming and toning the skin
Fighting and repairing sun damage
According to the formulator, Vitamin C accelerates healing, reduces inflammation, and strengthens the skin barrier giving you a more radiant, youthful appearance."
In addition to offering the Vitamin C+ 12% Serum to the Pure Clean Skin line, True Healthy Products has also added three different natural facial cleansers, a Skin Stem Cell Serum and an extraordinary skin solution that smooths creases and wrinkles on the face, called the Instant Face Lift. Visit the company's website at http://www.purecleanskin.com.
True Healthy Products
2460 North Courtenay Parkway, # 210
Merritt Island, FL 32953
888-400-2920