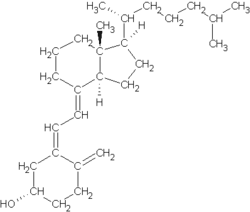 "Osteoporosis is not an inevitable part of ageing; it is preventable. So it is vital that all of us, of all ages, start taking care of our bones now, before it is too late." - Camilla Parker-Bowles
American Fork, UT (PRWEB) March 16, 2012
Natural Medical Supply llc, an online supplement store, provides a 500 mg vitamin D3 supplement, among other products to help support both body and health.
Vitamin D3 is naturally absorbed through sunlight. It works to maintain the body's calcium levels. Deficiencies in Vitamin D can lead to multiple health problems from osteoporosis to rickets.
Increasing one's levels of vitamin D through a supplement, may help with cognition, calcium absorption, and fight bone loss and asthma. According to a journal, "Pediatrics" published in 2009, approximately 70 percent of American children were deficient in Vitamin D. Including children, approximately 100 million Americans are vitamin D deficient. It is important, especially in young children for helping in bone development.
"Many of our customers struggle to get the appropriate amount of Vitamin D3 through their daily diet," said Jason Mac, Media Relations Manager of Natural Medical Supply. "This supplement is great for the customer on-the-go, to easily get support they need."
Aside from helping with bone health, it is also great for cancer prevention, cognition and preventing asthma. According to an article from "Discovery Medicine" a deficiency in Vitamin D can make one more vulnerable to skin cancer. This deficiency can also lead to a risk for cognitive decline and memory loss.
"We recommend Vitamin D3 be considered by every customer. The benefits are great in numbers," said Mac. "Start taking Vitamin D3 today, we hope your bones thank you later."
How much of a vitamin D supplement should one take to reduce deficiencies? Dr. OZ, recently on Good Morning America, suggested as high as 1000 iu per day. He also supported that recommendation by suggesting one consult their physician for testing. In some cases patients have required more or less depending on the physician's recommendations.
An excellent vitamin D supplement can be purchased online at Natural Medical Supply's supplement store website - http://www.naturalmedicalsupply.com
Sources for this release:
livestrong.com/article/245041-health-benefits-of-vitamin-d3/#ixzz1p7CbrUkD
livestrong.com/article/245041-health-benefits-of-vitamin-d3/#ixzz1p7F63OOB