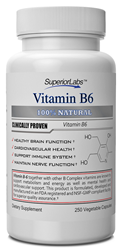 Newport Beach, CA (PRWEB) July 10, 2014
Announcing the release of our 100% all-natural Vitamin B6 capsules, which are available at the Amazon Marketplace. Unlike similar products on the market, our Vitamin B6, 100 mg capsules are free of the harmful ingredients often utilized in the manufacture of Vitamin B6 supplements.
Vitamin B6 in the diet
Your body cannot make Vitamin B6, nor does it store it, so you must get Vitamin B6 through diet or by taking supplements. It can be found in several types of beans, nuts and seeds as well as fruits and vegetables like bananas, Brussels sprouts and sweet potatoes.
Some cereals are fortified with varying amounts of Vitamin B6, but people often do not get enough vitamin B6 from their diet. Our 100% all-natural Vitamin B6 capsule will help you get and maintain the healthy amount of Vitamin B6 that you need.
SuperiorLabs Vitamin B-6
Other Vitamin B6 products often contain other potentially harmful ingredients, however ours is 100% all-natural, 100mg Of Vitamin B6. Our product contains no harmful ingredients such as silicon dioxide or magnesium stearate. In addition SuperiorLabs offers a vegetable capsule, rather than an animal-based gelatin capsule like most products.
In addition to these qualities making our Vitamin B6 safer, it is also highly acceptable for vegetarians and vegans. This Vitamin B6 product it is formulated, developed and manufactured in the United States, in an FDA registered and GMP compliant facility.
Benefits of Vitamin B6 supplement
Vitamin B6, known in the scientific and health-care world as pyridoxine, is one of the complex B vitamins and has a wide variety of health benefits. It is utilized in the manufacture and processing of amino acids, the building blocks of protein. B6 is also involved in the manufacture of serotonin and norepinephrine, which transmit signals to the brain.
The Mayo Clinic indicates that Vitamin B6 is involved in making myelin, a protein layer that surrounds nerve cells. Overall, it is essential in proper maintenance of the immune system, nervous system and maintenance of red cell metabolism. Vitamin B6 has been proven effective in treating several medical conditions and has other beneficial benefits. Vitamin B6 deficiency can lead to weakness, fatigue and other symptoms. Taking a Vitamin B6 supplement can potentially improve your overall health and help prevent certain medical conditions.
When you take our Vitamin B6 supplement regularly, you can be sure you are taking a 100% all natural, completely safe 100mg Vitamin B6 capsule, which is made in the USA. Never exceed the recommended dosage. If you are under the care of a physician, consult your doctor before taking this or any other supplement.