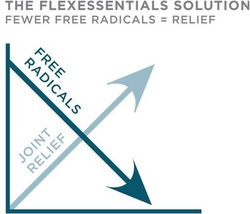 The FlexEssentials solution is simply to focus on combating excess free radicals in the body, which can be the source of the aches, soreness and breakdown.
Escondido, Calif. (PRWEB) December 17, 2008
San Diego-based FluidEssentials™ targets free radicals in new approach to relieve joint discomfort. Arthritis is the nation's most common cause of disability and costs the U.S. economy more than $128 billion annually. Nearly 50 million Americans suffer from arthritis and the numbers are growing among the boomer generation. But how does this widespread inflammation start? Is there something better than aspirin or glucosamine, chondroitin and msm? The answer lies in understanding the role excess free radicals play in inflammation.
Not all free radicals are bad. In fact a certain amount is necessary for proper functioning of the immune system. What is bad is the damage excess free radicals inflict on the body. Examples of what generates excess free radicals are: exposure to pollution, lack of exercise, poor eating habits, injury, obesity, smoking and stress. They overwhelm your body's antioxidants and lead to inflammation and health problems.
How Excess Free Radicals Can Affect Your Health
Excess Free Radicals -> Oxidative Stress -> Inflammation -> Health Problems
The most damaging free radicals are called Reactive Oxygen Species (ROS) which are stopped by the body's antioxidants called superoxide dismutase (SOD), catalase (CAT) and glutathione peroxidase (GPx). SOD is the most potent antioxidant and the body's first line of defense. It's the body's "immunotherapy."
A new health supplement, FlexEssentials™, is the first to boost SOD to combat the most damaging free radicals for rapid recovery and repair of muscles, bones and joints.
"Based on recent scientific research, we've come up with a new way to think about attacking aches and soreness and promoting better health," said Matt Titlow, founder and chief operations officer of FluidEssentials, Inc. "The FlexEssentials solution is simply to focus on combating excess free radicals in the body, which can be the source of the aches, soreness and breakdown."
Popular glucosamine and chondroitin simply try to rebuild the already broken down cartilage, but do not do enough to halt further breakdown from excess free radicals.
FlexEssentials' powerful combination of glucosamine, omega-3, Vitamin D and SOD is formulated to get to the source of the problem, not to mask it.
"After drinking FlexEssentials and waiting for a little over an hour, I could actually bend my knee for the first time in 4 days. I can feel the tightening going away," shares FlexEssentials customer Margaret W.
Another FlexEssentials customer Debbie H. stated, "Upon using FlexEssentials, the ankle swelling decreased quickly and dramatically and I was able to get busy with a quick rehab. I'm convinced the healing process was greatly enhanced by your product."
Because FlexEssentials works with the body's natural antioxidants, recovery and relief can occur within hours, far faster than common glucosamine and chondroitin supplements. It also works on a far wider range of health issues including joint and lower back discomfort, injuries and swelling.
About FluidEssentials, Inc.:
FluidEssentials™ formulates and markets natural, great-tasting and easy-to-use nutritional supplements to promote a more healthy, active and vibrant lifestyle.
The Southern California based-company was founded in 2007 by father-son team Barry and Matt Titlow who combined have more than three decades of experience in the highly competitive nutritional supplement industry.
The privately held company's current water-soluble product line is created for simplicity and convenience for health-conscious consumers. Products include: TotalSleep™, the first health supplement drink mix to naturally boost serotonin levels for less stress and better sleep; and FlexEssentials™, the first health supplement drink mix to boost your body's antioxidants for rapid recovery and relief for muscles, bones and joints. The water-soluble product line is available online at fluidessentials.com and drugstore.com or by phone at 866.623.5843.
*These statements have not been evaluated by the Food and Drug Administration. These products are not intended to diagnose, treat, cure or prevent any disease.
###