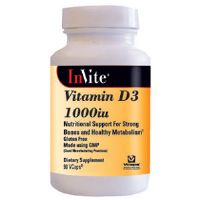 Vitamin D3 is essential to maintaining good health and possibly avoiding the onset of disease
New York, NY (PRWEB) April 29, 2013
InVite® Health, a leading nutraceutical firm headquartered in New York City, today announced the introduction of its new Vitamin D3 Tx product; a potent drop supplying 500 IU per single drop of the finest absorbed and utilized Vitamin D known as Vitamin D3. Vitamin D encourages the absorption and metabolism of calcium and phosphorus which promote bone strength, clear skin and hard nails, strong teeth, immune system health and even healthy fat loss. Invite Health's new product is dispensed through a dropper for quick absorption, providing 125% of the recommended daily allowance for this vitamin with each drop.
Researchers from Boston University School of Medicine and other leading institutions have found that higher vitamin D levels in healthy individuals may have a significant impact on the genes that are involved in several biological pathways associated with a broad range of illnesses supporting heart health and normal blood pressure, metabolic health and blood sugar regulation and immune system functions. For women, studies have also shown vitamin D's role in supporting bone and breast health. Many adults, however, are vitamin D deficient and have been shown to be especially low due to aging, the use of sunscreens and difficulty in obtaining adequate D from the diet alone. Sun replenishment can be tricky as overexposure leads to wrinkling and skin damage and an inability of aging skin to create vitamin D.
"Vitamin D3 is essential to maintaining good health and possibly avoiding the onset of disease," comments Dr. Millie Lytle, a Nutritional Director at InVite® Health, Inc. She adds. "Invite Health's Vitamin D3 Tx has been formulated to respond to that need. Moreover, the Product Development Department under the supervision of Scientific Director Jerry Hickey, R.Ph. has established a superior delivery system, thereby enabling easier absorption of nutrients known to support our customers' musculoskeletal and immune systems among other benefits." Lytle concludes.
Vitamin D has become one of the most physician-recommended dietary supplements over the last few years. Not technically an essential vitamin since the body synthesizes the "sunshine vitamin" through a chemical reaction between the sun's UV rays and cholesterol on the skin. Nevertheless, it has been estimated that approximately 70% of North Americans are deficient in this vitamin, due in parts to low levels of sunlight most of the year, sun avoidance and low consumption of food sources. Vitamin D supplementation can help support common vitamin D deficiency, which include rickets and osteomalacia. Research suggests that adequate supply of vitamin D could play a role in the blood sugar as part of the diet, normal blood pressure support already in normal range as well as a healthy immune response.
For more than a decade, InVite® Health has been recognized as an innovator and leader in the nutritional supplement industry. Offering a comprehensive line of the finest quality dietary ingredients from vitamins, herbs, minerals, specialized formulas and personal care products, InVite has built a loyal and growing consumer base. Their solid reputation has been founded on ensuring the highest standards in nutraceutical research and product development, committing to service excellence and assisting with charting and maintaining their clients' paths to wellbeing.