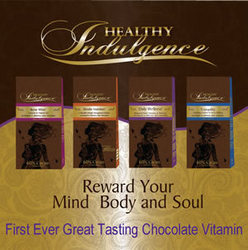 Healthy Indulgence is made with 60 percent cacao, unlike any product in the marketplace
San Clemente, CA (PRWEB) November 5, 2010
Hero Nutritional Products, a leader in the vitamin and supplement category, announces the launch of the first-ever premium dark chocolate vitamin, Healthy Indulgence. Doubling the minimum 30 percent cacao standard for dark chocolate, "Healthy Indulgence is made with 60 percent cacao, unlike any product in the marketplace". Fusing antioxidants naturally found in true dark chocolate with natural vitamins and botanicals, the product will launch with four varieties to help achieve daily wellness, bone health, weight loss and stress relief. "Our goal was to develop the most premium supplement for women that makes taking vitamins enjoyable and satisfies chocolate cravings without guilt," said Jennifer Hodges, founder and CEO of Hero Nutritionals. "This product is truly a breakthrough in the supplement marketplace because of its incredible cacao quality and fine-tuned blend of vitamins, botanicals, and nutrients, making them completely natural and utterly indulgent."
Healthy Indulgence dark chocolate vitamins are available in the following four varieties:
Daily Wellness: Taken daily, this vanilla flavored dark chocolate multi vitamin provides a unique blend of essential vitamins and nutrients to help ensure overall health.
Slender Nutrition: An all-natural blend of botanicals for appetite suppression and B vitamins for energy, this mochaccino flavored dark chocolate has been clinically proven to be an effective part of a weight-loss regimen.
Tranquility: Along with the stress reducing antioxidants found naturally in dark chocolate, this supplement adds valerian root, chamomile, vitamin c, and natural blueberry flavor to reduce stress.
Bone Wise: In addition to providing the daily-recommended amount of Calcium, Bone Wise also includes Vitamin D, a nutrient known to increase calcium absorption; making Bone Wise the optimum supplement to maintain bone health.
All Healthy Indulgence chocolate vitamins come with 28 individually wrapped pieces, each only 39 calories. Retail price is $28.99. Healthy Indulgence is currently available for purchase online and available in fine health food stores. Please visit the HealthyIndulgence website for more information.
About Hero Nutritionals:
Established in Orange County, California in 1995, Hero Nutritionals released the first gummy vitamin, Yummi Bears, with the goal of creating a supplement that children would be eager to take. Following the success of Yummi Bears, Hero Nutritionals created the first-ever gummy vitamin for adults, Slice of Life. As a leader in the vitamin and supplement industry, Hero Nutritionals aims to produce the highest quality and best tasting vitamins and supplements for all ages. Today, Hero Nutritionals produces Yummi Bears, Yummi Bears Organics, Slice of Life, Clifford the Big Red Dog Gummy Vitamins and Healthy Indulgence.
To learn more about Hero Nutritionals, please visit their website.
# # #