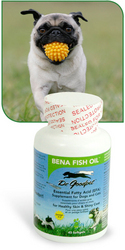 People who enjoy good health with natural remedies want the same for their pets
Hobart, IN (Vocus) October 19, 2010
Botanic Choice is pleased to announce the launch of a new pet line from Dr. Goodpet. The new 16-product line for dogs and cats includes homeopathic medicine, digestive enzymes, pure shampoo, natural flea control, and more.
According to Tim Cleland, President of Indiana Botanic Gardens Inc., customers have often requested natural pet products. "People who enjoy good health with natural remedies want the same for their pets," says Tim. The challenge was finding a high quality line that's in keeping with the standards of Botanic Choice.
Dr. Goodpet was selected because their supplements because no animal testing is every conducted and they are made with pure human grade ingredients. They contain no yeast, wheat, corn, lactose, salt, sugar, malto-dextrin, artificial flavors, artificial colors or any other potentially harmful or allergenic ingredients. What's more, they have been formulated so that even the most finicky pets will enjoy the taste.
The new product line includes:

Inside Flea Relief - Long-lasting flea relief for use inside your house
Digestive Enzymes for Dogs - Controls gas, weight problems and digestive issues in dogs
Digestive Enzymes for Cats - Helps restore a healthy digestive balance
Pure Shampoo for Dogs and Cats - A natural pet shampoo that helps pet's skin & fur
Mobility Formula for Dogs and Cats - A powerful natural arthritis remedy for pets
Stink-Off Odor Eliminator - Non-toxic and bio-degradable natural odor eliminator
Bena Fish Oil for Dogs and Cats - For healthy pet skin and coat, flexible joints, abundant energy and overall health
Arthritis Relief for Dogs and Cats - Relieves muscle and joint pain in dogs and cats naturally
Homeopathic Flea Relief - A natural homeopathic flea remedy
Homeopathic Scratch Free for Dogs and Cats - Stop pet's itching, scratching and hot spots
Homeopathic Good Breath for Dogs and Cats - Reduces bad breath odor in cats and dogs
Homeopathic Diar-Relief for Dogs and Cats - For fast and natural control for diarrhea in dogs and cats
Homeopathic Calm Stress for Dogs and Cats - Relieves stress in cats, dogs and birds
Homeopathic Ear Relief for Dogs and Cats - Keeps pet ears clean and healthy. Clears out dirt, wax and gunk.
Homeopathic Eye-C for Dogs and Cats - The natural way to help the irritated eyes of dogs and cats
Golden Age Formula for Senior Dogs and Cats - Provides senior dogs and cats with essential nutritional support
Maximum Protection Vitamins for Dogs and Cats - Fortified with over 70 trace minerals
Like the entire Botanic Choice line, the pet care products carry a 100% satisfaction guarantee and are available online.
About Botanic Choice
Indiana Botanic Gardens, Inc. is a leading provider of more than 500 high-quality nutritional supplements, including its best-selling Apple Cider Vinegar Plus for weight support. Their line of vitamins, aromatherapy, homeopathy, and herbal remedies are sold through their catalogs, web site http://www.BotanicChoice.com, and retail store at 3401 West 37th Ave, (Ridge Road) Hobart, Indiana (800-644-8327). Customers can call anytime for a free catalog or stop by the store weekdays 9AM-5PM or Saturday 9AM-4PM.
# # #