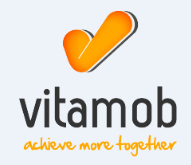 Vitamob's new health tracking system is made to track your overall health progress and growth
Montreal, Quebec (PRWEB) June 10, 2013
The Internet's best way to scientifically track nutrition and fitness, Vitamob.com has just rolled out its full fitness tracking tools suite. These tools encourage users to get up, get active, get moving, and reach their health and fitness goals.
Before release to the rest of the world, Vitamob is currently offering free membership to their fitness tracking platform in order to receive feedback. Vitamob's fitness tracking system is easy to navigate and helps you track a huge variety of foods, workouts, and other exercises such as climbing, swimming, dancing, etc.
Vitamob's new health tracking system is made to track your health progress and growth (or lack thereof) designed for athletes in particular, and creating ideas for new and more effective workouts or diet. This New Fitness Tracking Tool Suite can help men and women take off inches, tone thighs, shed excess belly fat, and improve overall health and energy.
Vitamob's "Team Functions" also enables users to invite team members, set challenges to motivate one another, and privately compete against your friends, family, or sports team.
To learn more about Vitamob's New Fitness Tracking Tools and how you can qualify for an immediate "full access" account, visit Vitamob.com today.
Vitamob is a web based tool suite used to scientifically track and assess health, nutrition, and exercise. Vitamob.com is owned by Meridien Management Services, LLC.