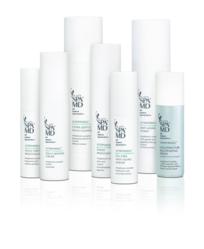 We're thrilled to be a part of the Eco Emmys Celebrity Chateau event and to bring this product to the L.A. market
Los Angeles, CA (PRWEB) September 16, 2011
With the West Coast launch of the Vitaphenol Skin Care Collection, consumers can now turn back the clock against premature aging just in time for the Emmys. The Vitaphenol team, led by Doug Neale, president and CEO of SciDerma, has partnered with Dr Boris Zaks of Beverly Hills Dermatology to launch this new and transformational skin care line on the west coast.
Throughout the days leading up to the Emmys, Vitaphenol will introduce the media, retailers, and consumers to this innovative brand, once only available in dermatologist offices. On Thursday, September 15, members of the media, local movers and shakers, and spa and salon retail outlets will gather for an exclusive party at the Renaissance Hollywood Hotel for the Vitaphenol Launch Party. At the event, SciDerma will unveil the results of the Vitaphenol 'Before and After' study, which demonstrates the significant improvement in the appearance of skin after use of the Vitaphenol Skin Care Collection.
Emmy nominees, presenters, and members of the media will also have the opportunity to visit the Vitaphenol Skin Care Collection booth on September 16 and 17 at the 5th Annual Eco Emmys Celebrity Chateau event.
"We're thrilled to be a part of the Eco Emmys Celebrity Chateau event and to bring this product to the L.A. market," said Neale. "We can't think of a better way to enter this market than by partnering with renowned dermatologist Dr Boris Zaks and having a presence at the Eco Emmy event to showcase our products to consumers, media, and celebrities."
In celebration of the west coast launch, Vitaphenol is offering consumers a special discount code for the weekend of the Emmys. From September 15-18, consumers will receive 20% off all products purchased using the special discount code EMMY.
The Vitaphenol Skin Care Collection is available for purchase at http://www.vitaphenol.com and http://www.dermstore.com.
**Editors Note: If you are interested in attending the Vitaphenol Launch Party, please contact Megan Richards at mrichards(at)mrichardspr(dot)com.
###