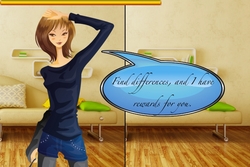 We are not trying to jump over the wall, but we are walking on it.
San Francisco, CA (PRWEB) February 24, 2011
App development is tough business, many indie developers are struggling to get by. There is no way to justify full time app development when the cost of development exceeds the returns. What is a small time business to do? Vitapoly, typically known for creating G-rated games, has decided to change their game plan. The company will be releasing a series of raunchy games, starting with Strip the Difference, a game where you find the difference between two images to have the girls strip.
X-rated games are banned from the App Store, not just because Apple wants a family friendly iPhone (parental controls have always been in place), but because they practically filled up every top ten category in the App Store before the ban. When asked how will Vitapoly circumvent Apple's walled garden, they replied, "We are not trying to jump over the wall, but we are walking on it." Strip the Difference contains no nudity, but provides pornographic suggestive rewards and "shows a little skin in a classy, tasteful way" as described by Vitapoly CEO, John Chen. "We just want to give people what they want, but appease Apple at the same time."
With such a change in business direction, Chen is uncertain but hopeful of the future. He said, "It was a very tough decision to make, and we are not sure if it is the right one. But one thing is for sure, our previous strategy was not working." Chen also indicated Vitapoly has several more unconventional business strategies in the pipeline but "one step at a time," said Chen. Visit here to keep up with Vitapoly's latest business strategies.
About Vitapoly:
Vitapoly is a young and innovative company, with leaders and developers from a wide variety of software fields. Their other notable products range from a hoppy prenatal avian adventure game (Super Egg), to a game with a concept that inspired Sir Isaac Newton about the law of gravity (Falling Apples), to a parenting app that emphasizes on positive reinforcement (Star Rewards).
# # #