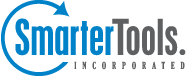 ViUX partnered with SmarterTools back in 2006... now using the SmarterTools API allows us to get new license keys into the hands of our customers quickly at any time of the day or night, 24/7/365. - J.T. Smith, ViUX Systems
Raleigh, North Carolina (PRWEB) January 07, 2013
ViUX Systems has updated their online ordering system for SmarterTools Software to use the API for provisioning license keys instantly. ViUX offers both discounted purchased (perpetual) and monthly (leased) license keys for: SmarterMail; SmarterStats; and SmarterTrack - now with completely automated provisioning of the license key instantly via the SmarterTools API.
The ViUX online store has also been simplified with large buttons to lease or buy the desired SmarterTools Software license key and enhanced with integration of additional anti-fraud checks. Customers may place an order for the specific software version, edition, and add-ons needed and the order is automatically processed by the automated system using the new integration with the SmarterTools API.
But since license keys are now provisioned automatically, the system has also been enhanced with several additional anti-fraud checks using both internal rules and external resources to auto-validate each order. If no anti-fraud alerts are triggered, the license key will arrive via e-mail and will be posted in the ViUX control panel within seconds of order completion. Otherwise, to prevent fraud, if an alert is triggered, ViUX personnel manually review, validate, and process such orders during normal business hours.
ViUX Systems is a long standing SmarterTools partner... since 2006. As a result, ViUX personnel are experts with all aspects of SmarterTools Software, regardless of just needing a license key, or if seeking more... such as Managed SmarterMail Hosting; a SmarterStats Server; etc... ViUX is the source for SmarterTools Software services and license keys whenever needed - now instantly.
----------
About ViUX Systems, Inc.
ViUX Systems is a privately held North Carolina Corporation established in 2003 – with the mission to provide individuals and businesses of all types and sizes with the Web / Internet Technology and Software Solutions required to offer their products and services to the world... with Vision, Understanding, & eXperience in Web Services.
----------
About SmarterTools, Inc.
Founded in 2003, SmarterTools Inc. is an information technology-management software company based in Phoenix, Arizona. SmarterTools builds a Windows Mail Server (SmarterMail), Customer Service Software (SmarterTrack), and Web Log Analytics and SEO Software (SmarterStats) - that simplify and automate the day-to-day IT operations of businesses and Web Hosting environments in over 100 countries.