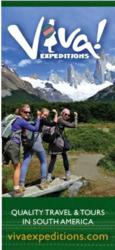 Viva Expeditions specialise in quality South America Travel and Tours.
(PRWEB) July 31, 2012
The well-known South American tour company Kumuka has suddenly ceased trading (according to its Web site, kumuka.com), leaving many travellers uncertain of how to patch together their travel plans and sort out what they will do once they land in South America. In effort to help these travellers out who are now stuck with flights to South America but are without a tour, Viva Expeditions (http://www.vivaexpeditions.com) has offered a special 10% discount to all Kumuka travellers who are in need of a replacement tour.
Viva Expeditions is known as a well-established tour company offers a variety of tours within Chile, Argentina, Patagonia, Peru, Bolivia, Brazil, Ecuador, the Galapagos Islands and the Amazon Jungle. It offers a range of quality active expeditions that is bespoke every client's interests and specific needs. From intimate private tours to well-organised group adventures Viva Expeditions has a number of South America tours available that fully expose guests to South America's incredible culture and environment.
Viva Expeditions recognises the stress brought on by the current circumstances and is making an effort to accommodate all those who still looking forward to a South American adventure and are in need of a suitable tour provider.
Viva Expeditions can be relied on for having comfortable accommodation, knowledgeable guides and a number of memorable active explorations and activities. The most popular expeditions include: the Wild Patagonia Tour which takes guests from the vibrant city of Santiago, Chile through the rich wine region and into the remote Patagonian expanse; and Southern Explorer Tour that takes guests on an adventure through the remote southern Patagonia to see such wonders as the granite pillars of Torres Del Paine and the sprawling blue ice of Los Glaciers National Park.
Viva Expeditions hopes to help travellers impacted by this event find a satisfactory solution that will turn this unfortunate incident into a memorable South American exploration.