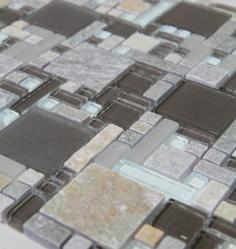 For limited time customer can qualify for free shipping on order of equal and or more than $ 79.00.
Houston, TX (PRWEB) October 30, 2012
Vivagi.com, a premium online store for glass tile introduced a new series into company collection. Millefleurs series; Flower design French Pattern Glass Tile mixed with Marble Natural Stone, Millefleurs series is available in 5 colors; Preto, Noce, Creama, Blanco and Gris. Lately, French Pattern Mosaic becomes popular among architect designer and home owner; it gives the customer the unique look rather than regular square or brick pattern design. In the past to get the French Pattern design, tile installer had to spent an extra hour for cutting, Millefleurs comes with multiple size insert that will give the customer the French/Versailles Pattern design look without all the extra work. Mosaic also available with back mesh mount for easy installation.
Glass and Stone mixed collection also add 5 new designs; D113 Cappucino Cube, is a mixed Slate Natural Stone and Glass Tile in multi color and shape, D114 Mystique Bronze, and D115 Silverstone are Resin Art Decorative Tile mixed with Marble Stone and Glass Tile. D116 Winter Garden 1x2 Glass and Marble is priced at D117 Bamboo Slate; the contemporary series add D112 Gurgle Beige, For Victorian Classic style, Vivagi offer Penny White Tile, D123, Penny White Tile is a porcelain glazed tile that available in 11 ¾ inch. X 11 ¾ inch, currently Penny tile is on sale for $ 5.49/ sheet.
About Vivagi.com; Vivagi is glass tile online store specialized in mosaic tile, glass tile, glass mixed with stone or metal and crackle glass tile, company offer the largest collection and lowest price on the market, company have more than 300 designs in their website, and the collection is still growing by the day. Vivagi only offers top quality glass tile mosaic with price starting as low as $ 5.50/sheets. For a limited time, customer can qualify for free shipping on order of equal or more than $ 79.00. Images in the website were taken by professional, and in high resolution quality, company understand the importance of having a good picture to represent the best images possible. Please note the colors might be slightly different on a different monitor. If pictures are not enough, company also allow the customer to order sample swatch from the website, all samples are free shipping. Please visit our Sales and Clearance for more saving.
For more information and to see more selection, please visit Vivagi.com your one stop shop for glass tile mosaic needs or call toll free number 1-800-525-8073