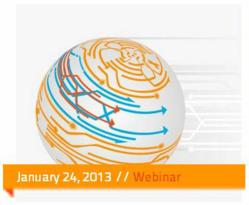 ... We are looking forward to a year of spirited discussion.
New York, NY (PRWEB) January 22, 2013
Vivaldi Partners Group is kicking off 2013 with a year-long slate of events, including monthly webinars. The first webinar of 2013 on "How to Win in the Digital Revolution of 2013: Revealing successful digital strategies through Social Currency" will take place on Thurs, January 24th at 4:00 – 5:00 pm GMT. Interested participants can register here: https://vivaldi.webex.com/vivaldi/onstage/g.php?t=a&d=625486008
Digital transformation has led to rapid change across all industries. Categories that have been affected early on, such as media, prove that you can successfully respond to this change and seize the opportunity to sustainably strengthen your market position. Vivaldi coined the term 'Social Currency' in 2009. Social Currency refers to how customers connect with brands and others. Social Currency is a significant driver of value in today's connected world. Most recently, the firm evaluated 102 brands from 19 industries across the US, UK, and Germany in their 2012 Social Currency study (http://www.vivaldipartners.com/sc2012).
In the webinar on Jan. 24th, participants will learn:

What is Social Currency?
3 Key Reasons why Social Currency significantly influences future corporate success
6 Essential Levers for Winning Digital Strategies
The year-long event series began the first week in January with a series of simultaneous breakfasts hosted in three of Vivaldi's European-based offices. The breakfasts were hosted by the London, Hamburg, and Munich offices with live broadcasts among the offices.
"We are very excited for our event series this year," said Vivaldi Partners Group CEO and Founder Erich Joachimsthaler. "We are pleased to present the leading thought leadership of our firms and partners in the fields of growth strategy – encompassing the latest thinking in brand, innovation, and how technology affects them. We are looking forward to a year of spirited discussion."
The January events will conclude with a presentation in the New York with Joeri van den Bergh, author of "How Cool Brands Stay Hot" on marketing to one of the most important consumer segments today, the millennials, on January 29th.
A full list of upcoming and recent events can be found on the Vivaldi Partners Group website: http://www.vivaldipartners.com/events/upcoming
About Vivaldi Partners Group
Vivaldi Partners Group (http://www.vivaldipartners.com) is a global firm that unlocks innovation and growth opportunities for brands and businesses in a digitally connected world. Vivaldi Partners Group uses its expertise in strategy, innovation, marketing, and organization to identify new demand-based opportunities, build strong brands, create and realize engaging experiences, and lead change through the development of people. Vivaldi Partners Group comprises of Vivaldi Partners, Fifth Season, a digital, design and technology agency, and E-Edge.