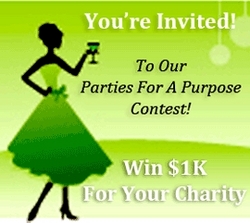 "When best practices are shared, fundraisers are more effective thereby increasing donations and, ultimately, greater good is contributed to society." said CEO and Founder, Layne Gray.
San Francisco, CA (PRWEB) October 6, 2010
Vivanista, the go-to community for philanthropic living and giving, is putting the 'fun' in fundraising by announcing its 'Parties for a Purpose' challenge. This YouTube video contest invites participants to create 90-second videos demonstrating how to host an easy, social event that generates donations for a selected charity. The contestants with the most votes will win underwriting for their next charitable event.
Party ideas range from a neighborhood pet fashion show where the donations are generated from entrance fees to a 'Dancing With The Stars' type event where each vote is a donation. Regardless of the size or funds raised, participants are encouraged to share ideas highlighting creative events they have attended or would like to attend.
"We're challenging our members and fans to put on their fundraising thinking cap, grab a video camera, and show the world what FUNdraising means to them!" said CEO and Founder, Layne Gray.
The top ten video submissions will be selected according to 1. Relevance, 2. Originality, and 3. Creativity. Then Vivanista will leave it up to public voting to select the parties that viewers would 'Most Likely Attend'. The top three parties with the most 'Attendees' will be awarded donations to their selected charitable beneficiary. Charitable prizes will be in the amount of $1,000 for 1st, $500 for 2nd and $250 for 3rd.
Video submissions will be accepted from October 1 to October 31, 2010 at 12 pm PST.
Public voting period will run from November 1 to November 15, 2010 at 12 pm PST.
Official contest rules are available at http://vivanista.com/parties-for-a-purpose/
About Vivanista:
By bridging the gap between Social and Impact, Vivanista helps charitable organizations and individuals increase cause-awareness and fundraising effectiveness through the sharing of insights and best practices.
With a mission to incite volunteers who contribute their efforts to charitable fundraising, Vivanista blends webzine, blog, and social networking with a robust library of philanthropic resources including: how-to templates, case studies, and a national social events calendar, that members can leverage to empow(H)er themselves and those around them.
For further information, please contact:
Annie Vranizan
Vivanista, Inc.
201 Post Street, Suite 1103
San Francisco, CA 94108
P: 415.394.3412
F: 415.558.8686
http://www.vivanista.com
http://www.youtube.com/vivanista
http://www.facebook.com/VivanistaFans
http://twitter.com/Vivanista
###