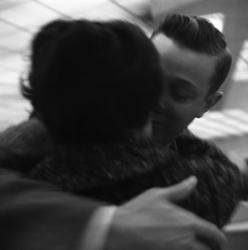 Vivian Maier is now recognized as an amateur American street photographer and her work has gained critical acclaim.
Oak Park, IL (PRWEB) November 26, 2012
The public is invited to a special presentation of Vivian Maier's photographs titled, "The Mystery & Moments of Vivian Maier" at 1 p.m. Thursday, Nov. 29, at the Oak Park Arms Retirement Community, 408 S. Oak Park Ave., Oak Park.
Mike Bullis, technical consultant with Vivian Maier Photography will present several short films constructed using photographs and 8mm film shot exclusively by street photographer Vivian Maier.
Maier was born in New York City in 1926 and grew up in France. She traveled to Chicago in the 1950s, where she worked as a nanny for 40 years.
Maier strolled the city streets taking photographs of everything and everyone. Maier had an eye for capturing the essence of all walks of life - from women in pearls and lace on Michigan Avenue to the city's gritty Maxwell Street Market. She also took photos in Europe and New York City, some of which are part of the collection.
Although Maier created more than 100,000 negatives, she rarely showed her work to others. Her body of work remained largely unknown and stowed away for years in a storage unit. After Maier stopped making payment, the unit was sold at auction in 2007 to Chicago historian John Maloof. He was the first to discover the photographs, but he knew nothing about who took them.
Maier passed away in 2009 -- just days before Maloof learned her name and started looking for her. She was a resident of Oak Park.
Since then Chicago art collector Jeffrey Goldstein also has acquired a portion of the Maier collection. Champions of Maier's photography have been managing her archives and organizing exhibitions across the country and around the world.
She is now recognized as an amateur American street photographer and her work has gained critical acclaim.
Bullis is a digital artist and freelance designer. His specialties include photography, short film production and website. A graduate of the International Academy of Design and Technology in Tampa, FL., Bullis studied under digital and film masters Win Wollof, Joseph Gamble and Chris Collins. He is currently a member of Goldstein's team, responsible for the construction and ongoing development of http://www.vivianmaierphotography.com.
The Oak Park Arms is a rental retirement community which provides senior housing in the form of independent living and assisted living apartments. Furnished apartments are also available for a short-term stay - a weekend, a week, a month or longer.
The presentation is free and open to the public. For more information call Jill Wagner at 708-386-4040 or visit http://www.oakparkarms.com.