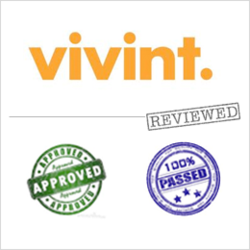 Getting a great deal from Vivint starts by doing research online. Experts are constantly looking for additional ways to help consumers save more when buying a Vivint Security system.
Denver, CO (PRWEB) May 30, 2013
The home security and alarm system security experts at Security System Reviews, a leading online source of home security system reviews and other expert commentary, announced today that they are making numerous improvements to their website.
"We have a strong base of loyal readers, but we realize that things can always be better," explained Tim Eveler, head of public relations for Security System Reviews. "The number one piece of feedback that we have heard from readers is the they would like access to more up-to-date pricing information. Historically, we have updated pricing information on a semi-regular basis, but we are changing that now. The other request that we see again and again is for more information on specials, promotions, coupon codes—basically anything that could help customers save money."
Since the start of the year, Web developers for SecuritySystemReviews.com have been hard at work collaborating with developers from home security company websites to create APIs and other pieces of code necessary to allow security companies' databases and the SecuritySystemReviews.com website to communicate with another. The main goal of their effort is to allow consumers to receive up-to-the-minute updates on pricing information, discounts, and specials.
Vivint Security, one of the nation's best home security system companies and a SecuritySystemReviews.com's top rated home automation system provider, has been added to new the new price and specials quote feature as of the Web site's most recent update. The price comparison app requires that customers enter a small amount of information—such as what kind of security system they are looking for—and then scours Vivint's selection of special offers to return all that apply to that particular customer. The app also provides the customer with the company's standard pricing information.
"We have had a really positive response from customers in our beta testing period. Customers really want information, and many of them are happy to choose the company that is most transparent with pricing information, even if it might not be the very cheapest," said Eveler. "We are confident that as security companies sees the benefits of transparency—and not just on price, but on all fronts—that more and more will participate in these sorts of information sharing initiatives."
Readers interesting in learning more about Vivint and testing the new price comparison feature should visit SecuritySystemReviews.com. The web site also contains Vivint reviews written by security system industry experts, as well as a wide variety of other articles, including expert recommendations and tip sheets, industry analysis, buying guides, and the annual ranking of best security systems (including the subcategory rankings of best wireless security system, best home automation system, top DIY security system, and top cellular monitoring service).
About SecuritySystemReviews.com
The home security systems specialists at Security System Reviews maintain one of the Internet's most popular home security system review libraries. A group of outside experts and consultants hired by the company also research and publish an annual ranking of the best security companies that has become a major bellwether of home security industry success.