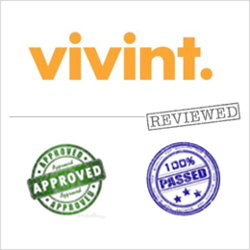 Vivint is doing big things and the technology is awesome. Definitely something our experts think is a good solution for consumers to investigate.
Dallas, TX (PRWEB) February 12, 2013
AlarmSystemReport.com, a leading source of information and consumer reviews on the home security and alarm market, named Vivint Security to the top of the list of best home alarm system companies for 2013. The company also announced that the complete list of top alarm system companies, along with reviews of each service provider, are now freely available on their website.
Vivint Security is a relatively new name in the home security world, but it has quickly risen to become one the top alarm system companies. The company has experienced rapid year over year revenue growth and also ranks as one of the nation's fastest growing home automation companies. The company made this year's list of leading companies in large part because of its technological innovation, its solid offering of wireless and cellular based monitoring services, the value it offers on premium home automation equipment and services, and its high customer satisfaction ratings.
"Vivint Security may not be the absolute cheapest security and alarm company out there," said Steve Ordona, head of public relations for AlarmSystemReport.com. "But they're hard to beat when it comes to the premium services they offer. Really, they have it all—premium equipment, high reliability, professional customer service, a decent warranty, and offerings that even include solar power management. For anyone wants to maintain a truly progressive home, they're pretty tough to beat."
A more detailed Vivint review is available at AlarmSystemReport.com.
Vivint wasn't the only up and coming, relatively recently established company to make this year's list of top home alarm system providers. FrontPoint Security, established in 2007, actually earned the highest overall ranking of all home security and alarm system providers. FrontPoint reviews are also available on AlarmSystemReport.com's website.
"Vivint Security may have every other company beat when it comes to their high tech home automation services, but when it comes to the best overall company across the broad—in areas like affordability, value, customer service, basic equipment, monitoring services, and reliability, FrontPoint Security just barely edges them out," said Ordona. "That said, it doesn't mean one company is inherently better than another. It's important for each homeowner to educate him or herself and make the choice that fits their family's needs."
Additional information about all of the nation's leading home alarm system companies, as well as company specific information on security and alarm providers like Vivint Security, ADT, FrontPoint Security, and Protect America can be found at AlarmSystemReport.com. All reviews and other information are freely available to the public without any need for registration.
AlarmSystemReport.com
AlarmSystemReport.com, a leading Web publisher in the consumer home security and alarm system market, offers highly reliable, accurate, and up to date home security alarm system reviews, as well as a variety of expert recommendations and home security market information. AlarmSystemReport.com also publishes annual rankings of the nation's leading home security companies. The researchers and reviewers are all independent experts in the home security and alarm industry and do not maintain any financial relations with any home security or alarm system companies.