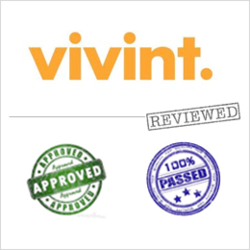 Vivint is one of the coolest security system companies that we've reviewed and they are constantly making changes to their solutions. To give consumers the most accurate information, we have to occasionally update our Vivint review.
Boston, MA (PRWEB) April 27, 2013
Home security experts at SecuritySystemReviews.com views Vivint to be a formidable home security company that offers plenty of innovation. This is why the website has taken the time to come up with an updated security system review on the company. Vivint underwent complete rebranding a few years back, and is now sporting a more modern and hip vibe.
Vivint is fully exploring the benefits of wireless security systems. The company's devices are not only sleek looking, they are also very easy to use. Vivint adheres to 100% cellular based technology, which means that phone lines and other types of physical wirings are not necessary. The company is also focusing on home energy management by offering products like solar panels that are geared toward saving energy and money. Vivint is always looking forward; this is why company has invested heavily on home automation. The investment seems to be paying off as Vivint is one of the best when it comes to home automation capabilities like light control and scheduling, as well as managing thermostats and other home appliances.
According to the analysis made by SecuritySystemReviews.com experts, at first glance, this security system company seems pricier than others especially when it comes to monthly fees. However, Vivint provides a lot of value because its devices are designed to conserve energy. In the end, customers can still come out as winners as they will pay lower energy costs. When it comes to upfront costs, Vivint can provide the same low rate as other companies.
Vivint presently does not offer do it yourself security systems. However, SecuritySystemReviews.com points out that there are benefits to letting a technician conduct installation. In this manner, homeowners do not have to deal with the stress of setting up the system nor do they have to worry if such home alarm system is set up properly. Vivint technicians can also determine if the customer's old alarm devices can be adopted into Vivint's present system.
Based on the SecuritySystemReviews.com's Vivint review, the company is strongly committed to providing outstanding customer service since its rebranding. Its commitment has actually produced positive results as it was given the Consumer's Digest Best Buy award. More customers are also expressing their satisfaction with the company's renewed vigor for customer care.
Vivint's customer, Scott Wilson from Kentucky commented, "The response when we've set off our alarm has been amazingly quick—less than a minute every time. That's a huge deal for me. If you have a security system you want a quick response."
Another strong point for Vivint is the lifetime warranty imposed upon all its security equipment. With the company motto "Live Intelligently", Vivint is surely making smart moves.
To learn more about Vivint and other leading home security providers, check out SecuritySystemReviews.com.
About SecuritySystemReviews.com
SecuritySystemReviews.com regularly consults reputable home security specialists to publish reviews on leading home alarm systems and their providers. All published reviews on the website typically include crucial information that homeowners normally search for when they are considering a new home security system.
# # #