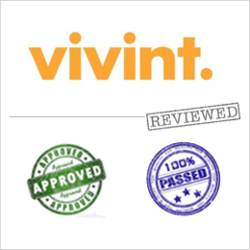 Vivint has one of the coolest security systems out there and the technology is top notch. We love the innovation and hope to see the company continue to improve it's services in 2013.
Detriot, MI (PRWEB) January 17, 2013
The home security and alarm specialists at AlarSystemReport.com, the security field's leading consumer information and research organization, recently announced the completion of their Vivint Security reviews process. With a final rating of four out of five stars, Vivint is currently ranked third on AlarmSystemReport.com's 2013 list of best wireless home alarm systems.
The complete review of Vivint Security found that the company scored especially well in affordability, equipment quality, home automation system offerings, technical support, and equipment warranties. The company scored at least four stars (out of a maximum of five) in each of these review areas. Given the high tech equipment that Vivint relies upon for its innovative edge, the one area in which the company's rating was only average was in its ease of installation. However, company representatives from Vivint say that customers can always call their technical support hotline and get all of the assistance they need during the installation process.
"Vivint Security is one of those new up and coming alarm companies that has suddenly got a lot of attention. It's certainly not as old and established a company as one like ADT, but it has a lot going for it—especially its hip and cool factor," said Steve Ordona, head of public relations at AlarmSystemReport.com. "Vivint is especially popular with younger and progressive families and households. It's one of the best alarm systems out there for anyone interested in home automation and energy efficiency. It even has solar panel control and monitoring services. It's a company run by people who understand the needs of tomorrow's smart homes and the technology that's necessary to power them."
In addition to its placement on the list of best wireless home alarm systems, Vivint was also ranked number one in the category of home security companies offering home automation services. AlarmSystemReport.com recently started ranking home automation systems in addition to standard home security ones because many of the same companies offer both of these services—mostly due to the fact that the similar Internet-based monitoring and remote access technology is required for the proper functioning of both home automation and alarm systems.
Interested parties may visit AlarmSystemReport.com to read the complete collection of Vivint Security reviews, as well as additional reviews and information on all of the best wireless, DIY, and cellular home alarm systems.
About AlarmSystemReport.com
AlarmSystemReport.com brings together several of the top expert commentators in the home alarm and security system field to deliver the most carefully researched, exhaustively fact checked and clearly written home security and alarm system reviews on all of the top home alarm systems companies. In addition to the annual alarm company rankings and tips from security specialists that it makes freely available to the public on its website, AlarmSystemReport.com provides potential alarm system buyers and homeowners with the in depth review and analysis they need, including information like FrontPoint Security, LifeShield Home Security, Protect America, and ADT alarm reviews. AlarmSystemReport.com maintains a strict policy that all of its alarm specialists and review writers must remain free from financial relationships with any of the alarm and security companies included in its review library.
###