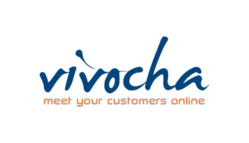 Business owners can manage and market their business online effectively through this set of communication tools. It allows businesses to proactively engage with clients, based on their navigation behavior and therefore increase conversions
San Francisco, CA & Barcelona, Spain (PRWEB) May 14, 2013
Vivocha is a cloud-based Multichannel Communication Platform, that allows anybody to start engaging website visitors choosing between Chat, Video Chat, CallBack and VoIP to provide Online Customer Service. Vivocha can be used to assist customers during their visit, offer support, answer questions, build and consolidate a loyal relationship, all in real-time and with no coding skills required.
Vivocha solves the problem of communication with website visitors. It offers live communications at the time web visitors are online and when they're most engaged or have the most questions. With Vivocha companies can chat with their visitors or request callbacks knowing who they are, their navigation history and seeing what they are seeing in real time. This web service is bringing businesses closer to their customers, improving communication and fostering the creation of a stronger relationship with them.
According to GetApp, Vivocha is essential for meeting customers online with different communication media and converting them into customers. Vivocha is suitable for any business size and easy to use.
The main benefits of Vivocha are:
Ability connect to many clients through one platform
Web site usage and engagement stats are recorded and reported in a visual dashboard
Easy to understand and affordable pricing options, starting at 19$/mom to fit anyone's budget
Vivocha achieved the following ratings:
Overall: 9/10
Ease of use: 5/5
Features 4/5
Value 4/5
Ease of deployment 4/5
"Business owners can manage and market their business online effectively through this set of communication tools. It allows businesses to proactively engage with clients, based on their navigation behavior and therefore increase conversions." said the GetApp reviewer.
To read the full review on GetApp visit:
http://www.getapp.com/blog/vivocha-review/
To test drive and deploy Vivocha for free, please visit:
http://www.getapp.com/vivocha-application
About Vivocha
Vivocha - a startup with base in San Francisco, Milan and Cagliari - provides an Online Customer Interaction platform that enables businesses to seamlessly communicate with prospects and customers right on the website, using any combination of VoIP, Video, Chat, Callbacks and collaboration tools like assisted browsing, form & document sharing. Its mission is to allow anybody to contact his/her website visitor, with just a few clicks, thus recreating the warm feeling of real-life communication online. Vivocha is the outcome of years of experience and research resulting in a product that's not only incredibly easy to use, but also powerful and professional.
About GetApp
GetApp is the largest independent online marketplace that helps small to mid-sized businesses and startups discover, evaluate and manage the perfect cloud business apps for their needs. Its mission is to support millions of users in their "best app" research with comprehensive directories, interactive search tools, side-by-side comparison tables, user reviews and app evaluation resources.
In addition, GetApp serves as a global online marketing channel for thousands of cloud business application developers. GetApp operates primarily in North America and the U.K. It is privately owned and backed by Nauta Capital. More information at: http://www.getapp.com/