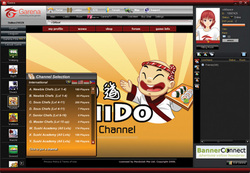 This partnership will make Viwawa and Garena one of the largest collaborative social gaming networks in Asia. By adding Viwawa games to the Garena gaming portal, we give Garena and Viwawa members an expanded gaming environment and deliver new avenues for Garena subscribers to connect with Viwawa's avid social gamers
Singapore (PRWEB) December 19, 2008
Viwawa, Asia's fastest growing social gaming network, launched their unique blend of casual multiplayer games and social networking tools on the Garena gaming platform today. Viwawa's mix of classic games filled with a little extra trickery and enchanted ninja battles that demand strategic culinary skills will give Garena members a diversified experience from the current fighting intense gaming selection.
Viwawa's offering of casual games and advanced communication tools will keep gamers chatting, blogging and creating avatars on the Garena network until the early morning. By joining the Garena platform, Viwawa's multiplayer games and social networking tools will be exposed to over 8 million Garena members that are scattered all over the world.
"This partnership will make Viwawa and Garena one of the largest collaborative social gaming networks in Asia. By adding Viwawa games to the Garena gaming portal, we give Garena and Viwawa members an expanded gaming environment and deliver new avenues for Garena subscribers to connect with Viwawa's avid social gamers," stated Chris Low, Viwawa President.
About Viwawa
Viwawa, a division of Pendulab, offers imaginative online games that challenge the mind and encourage playful competition. Intense battles ensue where strategy and skill prevail in fighting games Wahlords, dynasty chess and Numeroid while players stay enthralled on the memory battlefields of Wahjong, with trickery and plain luck being paramount. Trash talk may start in the forums but the in-game live chat encourages duels that last all night. Visit http://www.viwawa.com for the hottest free games and visit http://www.pendulab.com to learn more about the Viwawa creators.
About SilkRoad Equity
SilkRoad Equity is a private investment firm founded by Andrew J. "Flip" Filipowski and Matthew Roszak. SilkRoad Equity targets investments in the areas of technology, life sciences, media and entertainment and real estate, and is comprised of a portfolio of companies that includes: Cryo-Cell International, House of Blues, InterAct911, Mastro Auctions, MissionMode Solutions, onramp Branding, Pendulab, Primo Water, Rakote, SilkRoad technology, SolidSpace, TrueSystems and Vion Mobile. For more information, visit http://www.silkroadequity.com.
###