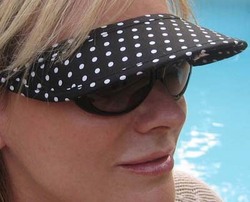 You can still keep from squinting and furrowing your eyebrows, protect your eyes and the critical eye area from harmful UV rays, without the hat-hair or headaches.
Round Hill, VA (PRWEB) January 29, 2009
Women who want to limit sun exposure without sacrificing makeup and hairstyles now no longer must choose between safety and appearance. The makers of Vizini women's sun visors have designed a strapless visor that renders obsolete the "hat hair," headaches, sweating and forehead lines caused by headband and clamp-style sun visors.
"If you aren't willing to sacrifice your hair-do or risk sun visor headache, that is where the Vizini strapless sun visor comes in," explains owner and creator, Rita Hockenbury. "You can still keep from squinting and furrowing your eyebrows, protect your eyes and the critical eye area from harmful UV rays, without the hat-hair or headaches."
Vizini is a clip on sun visor that does not clamp onto or encircle the head like conventional visors. How to wear Vizini? The lightweight women's sun visors have two elastic bands sewn in both ends of the underside that slip onto glasses' arms. Adjust it over the frames and the sun visor barely touches the forehead.
"The huge bonus of wearing a Vizini is that once you start wearing it, (and you can wear this visor all year long) the muscles around your eyes become accustomed to being relaxed when you are in the sun," says Hockenbury. "You become consciously aware of squinting and furrowing your eyebrows, whereas for most women, squinting and furrowing the eyebrows - making permanent creases - is an unconscious reflex of the muscles to protect the eyes from harmful UV rays. Everyone tells me that after wearing Vizini just a few times, their sun glasses just aren't enough anymore."
Hockenbury explains how she created Vizini at her kitchen table: "I would find myself at my children's soccer and swim team events continually putting my hand over my eyes, so I started cutting the bills off of my husband's baseball caps and playing with ways to make a visor that didn't squeeze my head or give me hat-hair. After a lot of tinkering and failed attempts, I finally arrived at a sun visor design that shaded my eyes, left my curly hair curly, and still allowed me to wear either my wire-framed glasses or my thick-framed sun glasses."
The production of this versatile ladies sun visor has recently been brought back to the U.S.A from overseas. They come in a variety of colors and patterns from a Hot Pink or Lime green visor to polka dot and leopard. The strapless sun visor can be custom ordered with a silk-screened or embroidered logo. Buyers can choose their own high-end or lower-end fabrics for their selection, though all Vizinis feature the same high-quality construction.
Customers can order Vizini visors one at a time for personal on their website, http://www.vizini.com. Vizini Inc. is Retail buyer friendly with small minimums wholesale packages, 2 displays to choose from, free pictures and even a 90 day 100% money back guarantee for in-stock colors/patterns. Exchanges of slow-moving colors are always encouraged. The company's newly revamped Website, Vizini.com, includes a variety of product photos and convenient ordering.
To learn more about Vizini strapless sun visors, visit About Vizini.
About Vizini Incorporated:
Vizini Inc., based in Round Hill, Virginia, designs, manufactures and distributes Vizini, the first totally strapless sun visor and winner of the Best New Fashion Accessory at the 2009 California Gift Show. Owner Rita Hockenbury launched the company in the fall of 2007, and now offers her 100% Made in the USA sun visors for sale at her online shop, Vizini.com.
###