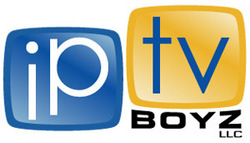 We are faced with tough economic times, and TV stations will need to become trusted advisors and do everything in their power to drive results and success for their customers
Denver, CO (Vocus) January 28, 2009 -
IPTVBoyz, a media company based in Denver, Colorado, that provides turn-key solutions for web brand management, video, blogs, syndication and SEO, announced today the signing of a contract to provide their Business Blog Platform to their first TV client, KCDO-TV of Sterling/Denver, Colorado. KCDO-TV is the first television station to sign on for the IPTVBoyz proprietary Video Blog portal.
"Internet Video is the future and the folks at IPTVBoyz get it," said Vice President and General Manager of KCDO TV Greg Armstrong. "This platform will allow KCDO to offer something to our advertisers that will help them succeed by actively reaching out to the Web to help build relevance for clients in the world of internet search results."
According to Dirk Freeman, co-founder of IPTVBoyz, internet video is the next logical step for broadcasters to embrace. With fragmentation on the dial, stations will need to start thinking differently about their advertisers.
"We are faced with tough economic times, and TV stations will need to become trusted advisors and do everything in their power to drive results and success for their customers," said Freeman. "In the almost two years that we have been perfecting our proprietary platform we have not run into a business that we could not help. The marketing of tomorrow is about internet search results and video. We simply help businesses get there today."
KCDO customers will have the opportunity to have their commercials indexed on the Web. They will also have access to a mini blog site to start communicating with their customer base as well as generate new business. The IPTVBoyz strategy incorporates Video, Blog Posting and Social Media integration to create relevance for any type of business on the web.
IPTVBoyz is a privately funded media company based in Denver, Colorado. The member partners are able to provide this new synergistic PR tool through their combined experience of in video production, TV broadcast, Search Engine Optimization, streaming technologies and internet video player technologies. IPTVBoyz was formed to help small-to-mid-level businesses compete against the large national brands. The company's mission is to ensure that each business has the tools, content and features to position themselves with premiere search placement in their respective business genres. For more information, please visit http://www.IPTVBoyz.com or call (303) 268-6006.
Contact:
Dirk Freeman
IPTVBoyz LLC
303-800-1006
http://www.IptvBoyz.com
# # #