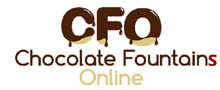 Vmax Group Launches Their Latest Offering of Hot Chocolate Machines Ahead Of the Holiday Season
(PRWEB) December 06, 2014
Vmax Group Ltd announced the launch of its new range of high performance oriented hot chocolate machines for the worldwide market. These machines come with the additional benefit of free worldwide shipping which proves a huge advantage to a customer. The new range includes 3 liters, 5 liters and 10 liters capacity. These machines come with a removable bowl, paddle stirrer and a non-drop tray plate. It also has an easy to operate hot chocolate dispenser.
The machines are fashioned in a trendy Italian design and have in-built temperature control. These machines are perfect for institutional customers like coffee shops, restaurants, cafes, bistros, buffet places as well as special catering events like corporate functions, parties, weddings, Christmas party etc. They are slim, highly functional and very aesthetically designed to blend in any theme or décor. They are also useful in school cafeterias, pantries of large offices and large homes too.
Some of the key features of the new range include:

High quality commercial grade motors that have a long life
The inner part is made of high quality sturdy and long lasting stainless steel
All machines come with a one year warranty
The resale value is also high at approximately 60-70 percent returns on resale
Some of the models have an anti-clogging faucet design
Then mechanism facilitates continuous stirring that keeps the chocolate inside smooth and warm
There is consistency in the output quality at all times provided the instructions are clearly followed and good quality chocolate is used
Easy to maintain and operate as has simple features and is user-friendly
Does not require high maintenance making it a sensible investment for a small size or a large business
"Our new range is designed for global customers who are looking for style, functionality and high quality Commercial Hot Chocolate Machine. We ensure best quality materials and easy to operate controls, making it a must-buy item for an astute business owner," commented, Mr. Andy Wang, company spokesperson on the new launch.
The company has created this new range after incorporating customer feedback, intensive product research and ensuring that the design is universally acceptable, ergonomic and appealing. Additionally, the overall operation of the machine has been made very simple and anyone can easily operate it and product smooth, tasty and delectable hot chocolate. This can be used to make milkshakes, hot chocolate drinks, in desserts etc.
"We are confident that all our customers will love this new range. Chocolate is used across almost all countries and we are sure that customers will enjoy using our simple but performance packed machines," added Mr. Andy Wang.
About Vmax Group Ltd:
The company was established in 2005 and is focused on supplying various models of hot chocolate machine, chocolate fountains with free worldwide shipping. The company offers one year warranty on its products.
Please visit http://www.hot-chocolate-machine.com/ for more information.
Media Contact Details-
Name: Andy Wang
Company: Vmax Group Ltd
Email: andy(at)chocolatefountainonline(dot)com
Phone Number: 0086-18058573623
Address: Ningbo City, Zhejiang, China
Social Presence:
Facebook: facebook.com/hotchocolatemachine
Twitter: twitter.com/cfofountains
YouTube: youtube.com/channel/UCz2IsDx4qUGi3ga9TNG6o4w