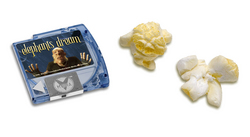 Vmedia gives consumers what they want – the hottest new movies and TV shows on a mobile entertainment media that is easy to use, easy to buy and delivers a quality personal entertainment experience.
Barcelona, Spain (PRWEB) February 11, 2008
Vmedia Research, Inc. today unveiled its mobile entertainment media technology at the GSMA Mobile World Congress in Barcelona in conjunction with the announcement of the world's first Vmedia movie phone by Spice Corp. Ltd. Vmedia™ is an innovative miniature optical disc format designed to bring the quality of a big screen experience and the simplicity of home entertainment to mobile consumer electronics.
"Consumers today are mobile and people want the same entertainment choices they have at home available for their mobile phones and portable media players" said Steve Volk, CEO and founder of Vmedia Research. "Vmedia gives consumers what they want – the hottest new movies and TV shows on a mobile entertainment media that is easy to use, easy to buy and delivers a quality personal entertainment experience."
A Vmedia disc is a new removable optical media for mobile devices that puts the latest movies and TV series into consumers' pockets for personal viewing any time, anywhere. Entertainment on Vmedia is equivalent in quality to DVD, it sells for the same price and has the same release dates, but Vmedia gives consumers the advantage of a single media that will play on both mobile and home entertainment systems. Vmedia discs are played in Vmedia optical drives – the world's smallest blue laser optical drives. Consumers everywhere are familiar with the benefits and use of optical discs. Vmedia discs are simple to use – just insert the disc and click "play." There are no restrictions on the number of devices or screens on which Vmedia discs can be viewed. And with 576p image quality consumers can enjoy Vmedia entertainment on every screen in the house from mobile phones to the big screen TVs in their living rooms.
How Vmedia Works
A Vmedia optical disc is only 32mm in diameter and is protected from the mobile environment by a slim cartridge. Despite their tiny size, Vmedia discs are able to hold complete feature-length movies at 576p resolution by combining blue laser technology with advanced video (H.264) and audio codecs (AAC).
Vmedia is a molded polycarbonate optical disc designed for economical high volume manufacturing using processes similar to DVD replication. The first generation single-layer Vmedia disc has 1GB of capacity which will hold the typical feature-length film plus extra features such as out-takes, mobile phone wallpapers and ringtones. Vmedia disc capacity will increase to 2GB on dual layer discs which the company expects to ship in 2009. A recordable Vmedia disc is under development for future release.
Playback of Vmedia discs in mobile devices is possible due to the advanced blue laser optical technology and miniaturization in the design of the Vmedia optical drive. In order to speed integration for mobile device OEMs and ODMs, the Vmedia optical drive is packaged as a complete, easy-to-integrate component. Designed to withstand the rigors of today's mobile applications, Vmedia optical drives are resistant to shock and vibration, and feature low power consumption. The first generation Vmedia optical drive is currently shipping to mobile device manufacturers. A second generation slim drive with a reduced height of 9.5mm will be shipping in the latter half of 2008.
Vmedia Ecosystem Partners
Vmedia Research defined and developed the core technologies and architecture for Vmedia discs and Vmedia optical drives. The company licenses this key intellectual property to manufacturers of Vmedia optical drives and discs, and software developers. Vmedia has developed an extensive ecosystem in order to deploy its technology into the consumer electronics and entertainment content marketplaces. The company has brought together world class leaders in optical and mobile technologies to develop and deliver a complete mobile entertainment solution for consumers.
Panasonic Communications Co., Ltd. (PCC) – Vmedia optical drive development and manufacturing
PCC is the manufacturer of the first Vmedia optical drive. PCC is a world leader in optical drive design and development including DVD and Blu-ray Disc drives. In particular, PCC is known for its advancements in blue laser integration and optical drive miniaturization. PCC has been working with Vmedia for more than four years. The first Vmedia optical drives were developed in PCC's R&D labs in Fukuoka, Japan, an effort lead by the Director of PCC Research and Development Laboratory, Hiroaki Sakai. According to Mr. Sakai, "The Vmedia optical drive is an important new solution for bringing high quality video to mobile devices. We believe that this technology will open up a new market for PCC in mobile entertainment. We are pleased to be working with Vmedia and the entire Vmedia ecosystem on this exciting new technology." PCC has completed the installation of the first Vmedia drive production line in their Kumamoto factory. Additional manufacturing lines are planned for Kumamoto and other PCC optical drive factories.
Cinram International, Inc. – Vmedia disc development and manufacturing
Cinram is the largest pre-recorded optical disc manufacturer in the world and is the exclusive replicator of Vmedia discs. Cinram has played a key role in the development of Vmedia optical discs, working with Vmedia over the last two years to develop and perfect the molding and manufacturing processes. Cinram is currently shipping sample Vmedia discs manufactured on the world's first Vmedia production line in Olyphant, PA. In addition, Cinram is a certified Vmedia authoring facility, providing services to prepare content for replication. Cinram's expertise in logistics and fulfillment will also help retailers order and manage Vmedia titles. "We are very excited to be part of the Vmedia ecosystem," said Cinram CEO, Dave Rubenstein. "Vmedia is a natural extension of the miniaturization of entertainment devices and has enormous potential. Its quality, portability and ease of use are sure to make Vmedia the format of choice in this new wave of mobile video viewing."
Spice Corp. Ltd. – Vmedia movie phone and content distribution
In order for Vmedia to reach the consumer market, Vmedia sought out a mobile device partner with the vision to bring mobile phones and video entertainment together in a new category of mobile product. Spice Corp of India has become that partner and the company's chairman, Dr. BK Modi shares Vmedia's vision of mobile entertainment. Spice is an innovation-driven company that owns both telecommunications and entertainment companies. Spice Mobile, the handset distribution and retailing division of MCorp, has introduced the world's first Vmedia-enabled mobile phone at the GSMA Mobile World Congress today in Barcelona. In addition, Spice is distributing both Indian and Hollywood content on Vmedia throughout South Asia. Dr. BK Modi, Chairman of Spice Corp, said, "Spice Corp. is delighted to be the first to launch a Vmedia disc-based movie phone. We believe the Movie Phone will become the most popular multimedia communications platform worldwide and may even change the way we all view movies, just as the iPod® changed the way we listen to music. Global interest in the Movie Phone has been phenomenal – with big media houses showing a particular enthusiasm in the opportunity to develop original content to a massive new audience of mobile users."
Longcheer Technology – Vmedia handset for Spice Corp. Ltd.
Spice Mobile contracted with Longcheer Technology of Shanghai, China to design and manufacture the world's first Vmedia-enabled mobile phone. Longcheer is the largest handset design company in China with customers throughout Asia. Longcheer CEO John Du said "Longcheer is very pleased to cooperate with all the Vmedia ecosystem partners to develop the world's first Vmedia-enabled mobile phone in order to bring a great new entertainment experience to mobile consumers." In order to take full advantage of Vmedia's video quality, the handset had to meet a number design challenges. A large LCD display was required for good viewing and a high performance applications processor was needed to play Vmedia video. These requirements had to be balanced with cost, power consumption and performance. The applications processor became a key component for playback of Vmedia video and the Texas Instruments OMAP2430 solution was identified as the best cost/performance solution. Texas Instruments supplied extensive support for the project working with the engineering teams from Longcheer, PacketVideo and Vmedia.
PacketVideo – Vmedia software player
Leading mobile multimedia software company PacketVideo was brought onboard to integrate the world's first Vmedia player into its CORE™ multimedia framework for quality video playback. PacketVideo's CORE multimedia framework is the embedded multimedia engine that powers more than 200 million devices worldwide. Working with Vmedia in early 2007, PacketVideo established the core architecture for a Vmedia player that could be ported to numerous mobile platforms. PacketVideo worked intensively with Longcheer and Texas Instruments to optimize playback of the high quality Vmedia format. "The Vmedia format expands quality mobile entertainment in a convenient packaged media to geographic markets that have an immediate demand for alternatives to broadcast services," said PacketVideo CEO James C. Brailean, Ph.D. "The removable media format is the ultimate in time- and place-shifted video viewing."
About Vmedia Research, Inc.
Vmedia Research, Inc. (http://www.vmedia.net) is an optical media technology company based in Boulder, Colorado, U.S.A. The Company was founded in 2002 to bring rich entertainment experiences to consumer mobile devices. The technology driving this vision is an innovative optical media format that delivers the quality of a big screen experience and the simplicity of home entertainment to mobile consumer electronics.
Miniature, blue laser-based Vmedia optical drives play Vmedia discs and are designed for integration into a variety of mobile consumer electronics platforms including mobile phones and mobile internet devices. Vmedia discs give consumers an easy-to-use and convenient to buy mobile entertainment media for enjoying feature-length movies, television series and video games on mobile devices.
Vmedia Research defined and developed the core technologies and architecture for Vmedia discs and Vmedia optical drives. The company owns and licenses its intellectual property portfolio including patents and trademarks to manufacturers of Vmedia discs and Vmedia optical drives.
Press Contact:
Wendy T. Volan
Vmedia Research, Inc.
wendy.volan @ vmedia.net
mobile: +1.720.771.6025
office: +1.720.221.6718
For images and additional information, please visit Vmedia's website at http://www.vmedia.net/press
Vmedia, Vmedia Research, the Vmedia logo and the Vmedia Research logos are trademarks or registered trademarks of Vmedia Research, Inc. Other company and product names may be trademarks of their respective owners.
# # #