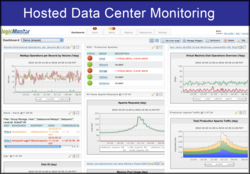 LogicMonitor's hosted monitoring solution provides enterprise-class monitoring for the entire infrastructure at an SMB price.
Santa Barbara, CA (Vocus/PRWEB) March 30, 2011
LogicMonitor, the leading hosted data center monitoring solution, has added VMware ESX hardware monitoring to its unified solution, making it one of the few monitoring products capable of providing the depth of information needed to protect against costly business interruptions within virtual environments. Designed to reduce the cost and complexity of monitoring complex IT infrastructures, the hosted solution provides end-to-end visibility of the entire physical, virtual, and cloud environment from a single web-based console, allowing engineers to quickly pinpoint the root cause of performance issues.
Other monitoring products provide basic statistics on ESX memory, CPU, disks, and interface cards, but cannot monitor the health of critical ESX hardware elements such as power supplies, fans, disks and temperature. LogicMonitor's pre-configured templates monitor all of these critical metrics — and many more — by default without any time-consuming configuration required.
On the risk of operating without ESX hardware monitoring, LogicMonitor CEO, Steve Francis notes, "If you have redundant power supplies and one of them fails, your system will still run. Without hardware monitoring, you won't receive alerts, and you may think all is good. If the second power supply fails, or there is scheduled service of part of your power infrastructure, your entire system goes down without warning. With LogicMonitor, you would be proactively alerted of any hardware issues before it impacts your business, and you'd have a complete graphical picture of your entire infrastructure, allowing you to quickly pinpoint the cause."
In addition to native support for VMware Vcenter and ESX, LogicMonitor provides monitoring across the entire infrastructure, from the performance of the web servers or databases running on the virtual machines, to the virtual machines' Linux or Windows operating systems, the applications and databases running on them, and the back-end storage system performance.
The fully automated data center monitoring solution is delivered on a Software as a Service (SaaS) architecture, eliminating the need to purchase and maintain in-house monitoring servers. The comprehensive system, with in-depth performance monitoring, email/SMS alerting, and reporting, can be deployed in as little as 30 minutes.
A free trial is available at http://www.LogicMonitor.com.
About LogicMonitor:
LogicMonitor LLC is a leading provider of SaaS-based monitoring software for physical, virtual and cloud-based IT environments. Headquartered in Santa Barbara, California, LogicMonitor was founded by a team of data center managers and technology experts dedicated to making data center monitoring simple. The company is a NetApp, VMware, Citrix, Dell, and HP technology partner, and was the recent recipient of the Best of SaaS Showplace (BoSS) Award for delivering outstanding business value with a Software-as-a-Service (SaaS) solution. LogicMonitor was also recognized as one of the top network monitoring solutions by TechRepublic, a leading online resource for IT professionals. For more info, visit http://www.LogicMonitor.com or call (888) 41LOGIC.
###