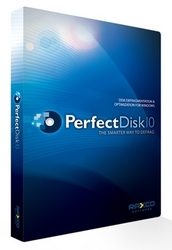 As the leader in virtualization defragmentation, it's a natural for PerfectDisk to lead the way in support for VMware vSphere 4
Gaithersburg, MD (Vocus) October 14, 2009
Raxco Software, the pioneer in virtual disk defragmentation software, announced today that PerfectDisk® 10 for ESX Server now supports VMware vSphere™ 4. PerfectDisk 10 is the industry's only solution that provides seamless and integrated defrag support for VMware vSphere 4.
VMware vSphere 4 is the industry's first operating system for building the internal cloud, enabling the delivery of efficient, flexible and reliable IT as a service and bringing cloud computing to enterprises.
"As the leader in virtualization defragmentation, it's a natural for PerfectDisk to lead the way in support for VMware vSphere 4," said Greg Hayes, Raxco Software's manager of technical solutions. "We're excited that our growing install base of PerfectDisk 10 for ESX Server users can now maximize the benefit of automatic disk defragmentation in this environment."
About Raxco Software
Raxco Software has been the industry leader in helping large enterprises, small businesses, and consumers with their PC and computer performance and resource management needs for over 30 years. Its PerfectDisk 10 is certified by Microsoft® for Windows 7, Vista, Windows Server® 2008 and Hyper-V. PerfectDisk products have a long history of winning the industry's highest awards, most notably its perfect 5-star review from CNET Download, winner of the Windows IT Pro Readers' Choice Awards for Defragmentation Utility and Storage Management Tools, Redmond Magazine's Best of the Best Award, and PC Magazine's Editors' Choice Award. Raxco's PerfectSpeed is the industry's first all-in-one automated PC performance suite for Windows®. Raxco also produces optimization software, for HP's OpenVMS operating system. Raxco Software can be found on the Web at http://www.perfectdisk.com.
Contacts:
Sherry Murray
Raxco Software, Inc.
301-519-7836
©Copyright 2009, Raxco Software, Inc. All rights reserved.
PerfectDisk is a registered trademark of Raxco Software, Inc. Windows, Windows Server and Microsoft are trademarks or registered trademarks of Microsoft Corporation. VMware vSphere is a registered trademark of VMware, Inc. All other trademarks or trade names are the property of their respective owners.
# # #