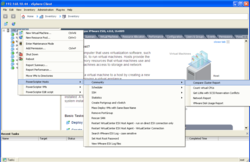 Alan Renouf, VMware Technical Marketing - "PowerVI allows [users to break] down the walls of the rigid GUI and allows VMware admins to use the Power of PowerShell and PowerCLI whilst remaining within the vSphere Client, a fantastic must have product..."
St. Louis, MO (PRWEB) October 13, 2011
Devfarm Software is offering special pricing on PowerVI – PowerScripter and PowerWF for VMware, concurrently with VMware's VMworld Europe conference and through the end of October. PowerVI lets users automate their vSphere management by running prebuilt and custom PowerShell scripts directly from the vSphere client. PowerWF for VMware makes it easy to author, edit, and test VMware automation scripts and workflows.
"The vSphere Client has always been seen as rigid, often VMware Admins wish they could add shortcuts and features which make their life easier," said Alan Renouf, VMware Technical Marketing. "PowerVI allows them to do just this, it breaks down the walls of the rigid GUI and allows VMware admins to use the Power of PowerShell and PowerCLI whilst remaining within the vSphere Client, a fantastic must have product which will increase productivity and save much needed time in any admins life."
PowerVI will be discussed during Alan Renouf's PowerCLI sessions at VMworld Europe and Devfarm's Gary Lockwood will be onsite with product information. Additionally, Devfarm Software is offering PowerVI and PowerWF for VMware at a discount of 25% off the list price of the software for purchases made in the month of October. The special pricing is valid for anyone purchasing PowerVI or PowerWF for VMware, even if they were unable to attend VMworld Europe.
"Our customers quickly understand the combined value of PowerVI, PowerWF and PowerSE," said Jim Hofer, head of Devfarm Software's virtualization business unit. "These products make it easy to create and test VMware automation scripts and then deploy them to their production environments where they can be run directly from the vSphere Client. "
PowerVI - PowerScripter delivers many predefined functions for common admin tasks and is capable of handling hundreds of custom scripts for direct usage from a dynamically generated context menu within the VMware vSphere client (for connections to vCenter, vSphere 4, ESX 3.5 or ESX 3i). PowerVI is integrated with PowerWF and PowerSE to allow users to easily create, modify and test their own workflows or PowerShell and PowerCLI scripts and then deploy them to the vSphere client. The included scripts can also be easily modified and tested using PowerSE.
PowerVI - PowerScripter can be downloaded from: http://powerwf.com/products/powerscripter.aspx
PowerWF can be downloaded from http://powerwf.com/misc/download.aspx
About Devfarm Software:
Founded in 2008, St. Louis Missouri based Devfarm Software's mission is to build world-class products to simplify and automate the daily activities of IT administrators. Devfarm Software's flagship product, PowerWF Studio delivers on this dream by leveraging Windows Workflow Foundation and PowerShell to innovate in the Administration, Virtualization, Service Desk and Monitoring spaces.
PowerVI extends this vision to simplify the automation needs of VMware administrators by allowing PowerShell scripts to be easily executed directly from the vSphere Client.
For additional information, please visit the PowerWF website at http://powerwf.com or email Devfarm Software at sales(at)devfarm(dot)com.
For questions about this release, send an email to PR(at)devfarm(dot)com or contact Devfarm Software at:
Devfarm Software, Attn: Public Relations, 2008 Altom Ct, St. Louis, MO 63146, 314.590.5800
PowerWF, PowerVI, PowerSE and Devfarm Software are trademarks of Devfarm Software, USA. PowerShell and Windows are registered trademark of Microsoft Corporation, USA. VMware and vSphere are registered trademarks of VMware. All other trademarks mentioned in this document are the property of their respective owners.
# # #