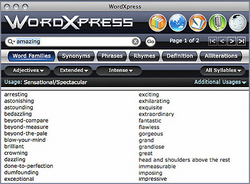 The thought that one day we may write and speak the way we text is why we are launching a campaign to Save The Words
Santa Barbara, CA (Vocus) October 20, 2010
Concerned over the deteriorating state of vocabularies among kids, WordXpress, a vocabulary building software company, has launched a global initiative called, "Save The Words." To get the campaign off the ground, the company is granting free 1-year licenses to any accredited school interested in utilizing the program in the 2010-2011 school year. Schools interested in obtaining a free 1-year license should email info(at)wordxpress(dot)com, or call WordXpress at 866-848-8484.
WordXpress is a revolutionary new educational software program that will grow the vocabulary and dramatically improve writing skills. The program was designed for grades 4-12 and on. A short online WordXpress tour can be viewed at: http://www.wordxpress.com/tour.php
"The thought that one day we may write and speak the way we text is why we are launching a campaign to Save The Words," says Barry DeVorzon, president of WordXpress.
A recent study by the Utne Reader indicated that the typical American teenager in the 1950's had a vocabulary of 25,000 words. By 1999, it had dropped to 10,000 words. And that was before MySpace, Facebook, YouTube, Twitter, Texting, and online video games. We can only imagine what the typical teenager's vocabulary is today.
A number of other studies provide cause for concern. The Kaiser Foundation study "Generation M: Media in the Lives of 8-18-Year-olds" revealed that, "In a typical day, 8-18 year-olds spend an average of 7 hours and 38 minutes using entertainment media." The study also points out that, "The 10-year-olds bedroom has become a multimedia center." According to the Pew Internet & American Life Project, "97% of kids play video games."
DeVorzon points out, "We've become a visual society. There are over 300 channels of television with something for everyone, motion pictures with special effects that challenge the theater of the imagination, video games with realistic graphics that put you in that car, or on that field with the athletes, YouTube, social networking, and last but certainly not least, texting. The consequence of this cultural shift is that young people with leisure time will rarely curl up with a good book. This is unfortunate because reading is where we used to get our exposure to descriptive words - words you will not find in textbooks. As a result, their vocabularies are suffering, and in some cases, hardly exist."
DeVorzon believes that it is essential that parents and educators do everything possible to encourage young people to read more. He concedes however that, "this is a battle we are not always going to win. Asking young people to abandon all of the visual enticements and sources of entertainment available to them today is not realistic."
This is why he believes that using WordXpress, with its intuitive interface and unique reference dictionaries, will encourage young people to surf the English language the way they surf the internet. This concentrated exposure to descriptive words will grow and nourish the vocabulary, and hopefully, help young people to express themselves more eloquently in their writing and conversation.
DeVorzon, a Grammy and Emmy Winning songwriter, has pursued a successful career whose very essence involves touching others with words and music. In his opinion, "The ability to communicate intelligently and eloquently is a big advantage in life, and a key to success regardless of the profession you choose."
About WordXpress:
WordXpress is the new educational product from MasterWriter Inc, which was founded in 2003 by veteran songwriters, Barry DeVorzon, and Michael Towers. The initial product, MasterWriter, was introduced at MacWorld Expo in San Francisco, where it won a Best of Show Award, received rave reviews, and is currently being used by many of the world's leading songwriters, screenwriters, and novelists. WordXpress was released in August 2010, and is a product specifically focused on education. The company is headquartered in Santa Barbara, California. For more information, visit http://www.wordxpress.com.
Contact:
Barry DeVorzon
WordXpress
740 State Street #203
Santa Barbara, CA
Phone: (805) 892-2656
Barry(at)wordxpress(dot)com
###